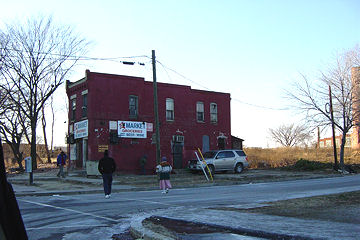 A
few weeks ago I posted
about an e-mail I had received from Yung Park, owner of the (no longer standing) Little Red Building at 2nd and L streets, SE, about his plans to switch from running a liquor store on that site to a coffeehouse, which he said would be named Aroma Espresso Bar. One of the entry's commenters noted that a chain with that name already existed, and I replied in the comments that Mr. Park had told me it was not going to be a chain: "(so I wonder if the name is going to be problematic)".
This afternoon I received a very nice e-mail from the law firm of Baker Botts LLP, informing me that their client, Shefa, owns the federal trademark for "AROMA ESPRESSO BAR" and operates a franchise system under that trademark. Further, "Mr. Park's establishment is not one of Shefa's franchises, and we have communicated with Mr. Park, asking that he refrain from using our client's trademark." They also asked that I refrain from using that name in any future blog entries about the LRB.
Hopefully soon we'll hear from Mr. Park about a new name.
UPDATE:
Or, judging by the vast reach of the
current AROMA ESPRESSO BAR
(as noted by Paul in the comments), maybe not. I would also note that the wording in the e-mail from the law firm was "asking", which doesn't exactly sound like a legal demand.