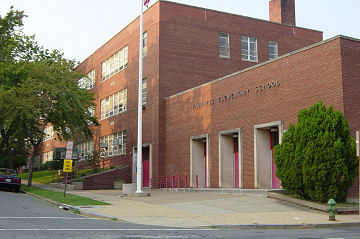 Most parents probably already know this, but a meeting has been set up
by the Parents on the Capitol Riverfront group
with Kaya Henderson, DC Public Schools' interim chancellor, to discuss the future of Van Ness Elementary. Henderson will be there to talk about the results of the survey that was done back in September to gauge the potential pool of students for a possible reopening of the school, and there will also be a question-and-answer session. It's scheduled for Dec. 8 at
6:30
6 pm at the Courtyard by Marriott at New Jersey and L, SE.
As I wrote
a few weeks back
, the parents group has been told by DCPS that, in order for a viable elementary to be opened (grades Pre-K3 though 5), it needs to have 250 students. The group says that they've been told that "it might be possible to phase in the school, starting with Pre-K3, Pre-K4 and Kindergarten for the first couple of years and then slowly expanding up through 5th grade," so they are trying to determine exactly how many school-aged children are in the neighborhood, along with possible projections of how many more might arrive over the next five years. They are also looking at whether a large number of parents currently on the waitlist for Brent Elementary might be willing to send their children to Van Ness out-of-boundary, to help increase the number of potential students.
UPDATE because of some confusion as to who exactly set up the meeting.
UPDATE II to note the start time having been moved to 6 pm.