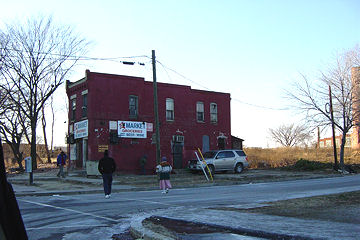 I've just received an e-mail from Yung Park, the owner of the no-longer-Little-Red-Building site at Second and L, where the plans have been for years to reopen a liquor store known as "Parkway Wine and Spirits" once the new building is constructed (the old LRB for a long time housed the Star Market). However, apparently that's all now changing.
According to this e-mail, the site is now going to be a cafe, to be called the
Aroma Espresso Bar
, and it will feature an
Illy
coffee bar, plus "gourmet sandwiches and gourmet pastries." He says that the new building's exterior design will be the same, with the interior having modern finishes. The first floor will be the kitchen and coffee bar, and the second floor will be the seating area. (They're also hoping for sidewalk tables, though that will have to go through the city's Public Space permitting process.)
"If we have decent weather," Mr. Park expects the building and store to be ready by February.
With Harry's Wine and Spirits (which I think is now being called Harry's Reserve) opening at 909 New Jersey within a few months, the notion of two "gourmet" wine and liquor stores so close to each other must not have looked quite so appealing. And, with Parkway/Aroma's location next to
Canal Park
, switching to a more all-ages business plan is probably a wise move. Will post additional information as I get it.