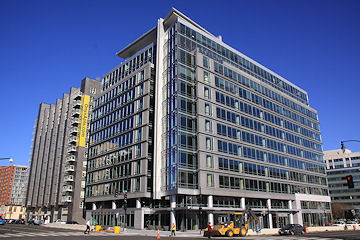 While normal people have spent their weekend recreating and taking it easy, I've been trying to find out more about the
just-announced foreclosure sale
of
100 M
, the 220,000-square-foot office building that has been tied up in Opus East's
Chapter 7 liquidation
.
My big question was about why this is being billed as a sale of a "60-Year Leasehold Interest," and what I've found out is that Opus never owned the land, but instead had entered into a lease with and paid rent to the landowners. (Who are the people behind "Square 743 Inc"? I'd love for
someone to tell me
!) When Opus's operations went south, their lender (Bank of America) stopped funding the construction loan, so contractors stopped being paid, liens were filed, bankruptcy case got ugly, etc. etc.; basically, it's been a mess.
BoA is now washing its hands of it all, and is looking to get back some amount of the $58 million currently owed on the construction loan. (The land ownership is not being foreclosed on.) I've heard that BoA contracted with CB Richard Ellis earlier this year to sell the loan, and there's speculation that BoA may have a deal with an investor already, even though the Notice of Foreclosure Sale still lists BoA as the holder of the note. This would be similar to the way JPI's empty lot at
23 I Street
changed hands
a year ago
, with SunTrust Bank selling the note to Ruben Companies, who then instituted foreclosure proceedings and took ownership of the property when no bidders came forward.
However, while the word "foreclosure" usually conjures up feelings of doom and gloom, for 100 M this should be a step up from Opus's liquidation. Instead of continuing to be tied up with companies and lenders and courts who have no interest or wherewithal to spend the money needed to clean up the mess and to market and lease the building's office and retail spaces, there may now be at least one investor--and maybe others, if the foreclosure sale brings bidders--who feels that the building is worth taking a gamble on now for a return on investment later. (Though it's worth noting that there is not a similar feeling of optimism about any new office projects in the area any time soon, with on-spec construction still completely DOA.)
We shall see how it all shakes out.
The auction is scheduled for
Oct. 28 at noon
, so this building can be yours for a mere $5 million deposit and an all-cash winning bid. It's currently 43 percent leased.