While I officially date the start of my blogging about Near Southeast as being
January 2003
, that was not when I took my first photos around the neighborhood. In the early fall of 2000, I grabbed a camera (a FILM camera!) and drove south of the freeway, around the neighborhood whose name I didn't know, to
take some pictures
. I had no plan to do anything with them; in fact, the prints quickly got filed away and I didn't even remember having them until I stumbled across them in 2004. The film I used was bad, so many of the shots barely came out. I don't even know exactly what day it was--judging by the color of the trees, it could be late September or early October. But, despite all of that, the
24 photos I took
, now 10 years ago, mark the beginning of my very strange and unexpected odyssey.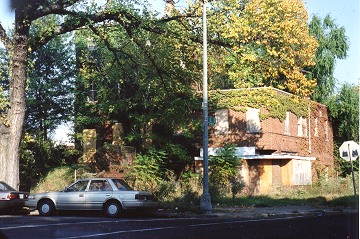 I had spent almost no time below the freeway since buying our house on the south side of Capitol Hill in 1995 (the area's
reputation
and lack of any amenities gave us no reason to). But in 1999 and 2000, the 3rd Street on-ramp for the freeway was being rebuilt, which forced us to drive to South Capitol Street to get on the westbound freeway. We usually crossed over on K Street to New Jersey, and often got a good laugh when we'd see a sign draped on the southeast corner of the intersection touting a new
multiunit residential building
"steps from the Capitol." "Dear God, who would ever pay big bucks to live down HERE?" I remember saying to Mr. JDLand on more than one occasion. (So much for vision.)

But I was still aware of the changes that were being talked about for the area, along with the first mini-building boom already underway: the construction was almost finished at the
Navy Yard
to house the NAVSEA operations, and we could see 80 M and 300 M rising up as we drove on the freeway, and I even remember being aware of the streetscape improvements being made to M Street (curbs, bricked medians and crosswalks). So I took a bunch of photos, and promptly forgot about them. And then started the tracking for real in early 2003, this time with a digital camera in hand.
Even though the pictures are pretty cruddy, they're still
worth wandering through
. Try not to look at the locations, and see if you can figure out where they are; then click on the

icon to see what's happened to these spots in the intervening decade.