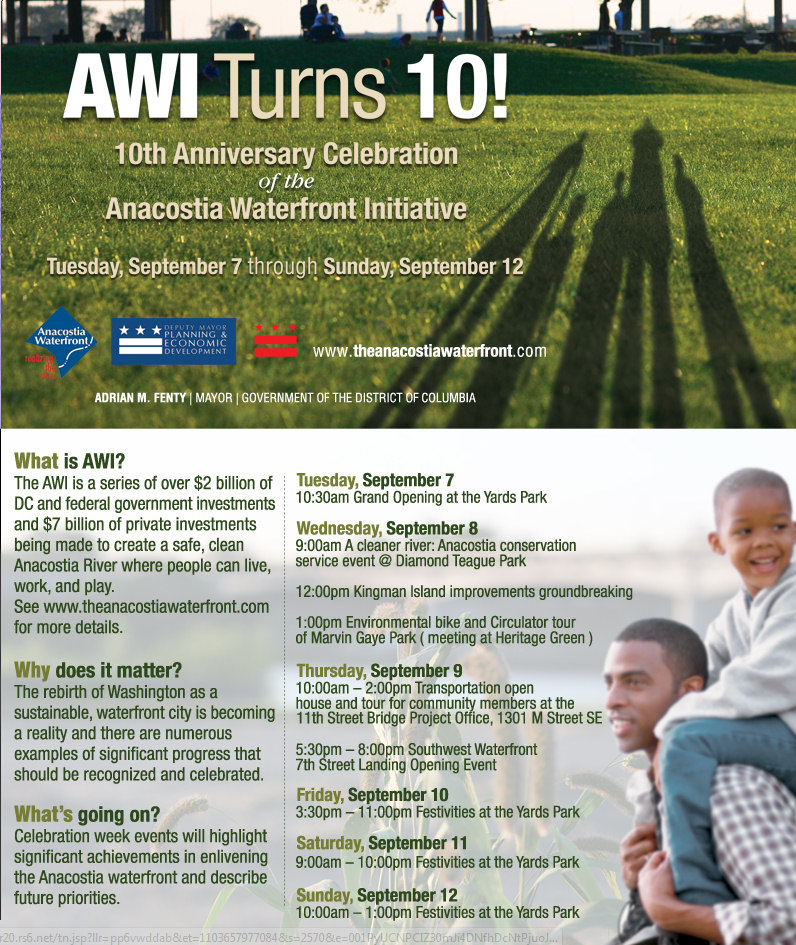 The
Anacostia Waterfront Initiative
, the wide-ranging approach via city and federal investments to revitalize the Anacostia River and its environs, is celebrating its 10th birthday, with a
series of events next week
tied to the riverfront. Some of them you're already aware of, like the dedication ceremony at the
Yards Park
on Sept. 7 followed by the "
grand opening weekend
" of events Sept. 10-12. But there's also some other happenings, including an "Anacostia Conservation Service Event" at
Diamond Teague Park
at 9 am on Sept. 8, a "
transportation open house and tour
" at the
11th Street Bridges
project office on Sept. 9 from 10 am to 2 pm, along with other events at Kingman Island, Marvin Gaye Park, and the Southwest Waterfront.
[And, should my feelings be hurt that the postcard advertising the celebration that came to our house was addressed to my husband and not me? What, I haven't demonstrated enough interest in the river? :-) ]
UPDATE:
Just received a flyer about the
Sept. 9 Transportation Day
--it will start with a kick-off at 10 am with DDOT director Gabe Klein, then the open house until 2 pm, which includes bus tours of AWI transportation projects. Parking is limited at the open house site (over at 13th and M, SE), so they'll be running Circulator buses to there from the New Jersey Avenue Navy Yard Metro station entrance.