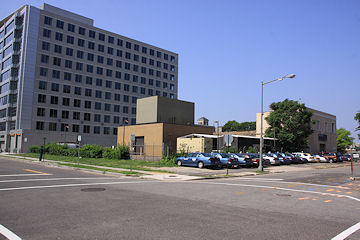 It was only
a few weeks ago
that I discovered (much to my embarrassment) that WMATA had been negotiating for nearly two years with
Donatelli Development
for the rights to build on the
southwest corner of Half and L
, on the Navy Yard station's "chiller site." Metro's
web site on the proposed plan
said that the development agreement is now "expected to be executed in the summer of 2010."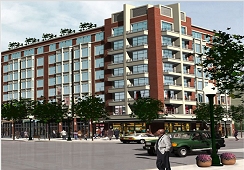 However, the
WashBizJournal reports today
(subscribers only) that the two have now "cut ties," with Donatelli receiving a certified letter from WMATA ending the deal. The article says that, while originally Donatelli proposed 84 apartments with 5,300 square feet of ground-floor retail, the development company last year tried to "reframe the project" as a boutique hotel, but couldn't find financing. WBJ quotes Donatelli as saying "There are too many apartments there already[.] The whole area was getting saturated, and it didn't look like condominiums were a viable alternative," which brought a "perplexed" response from Michael Stevens of the Capitol Riverfront BID: "We think [residential has] been one of the greatest successes of our neighborhood[.] Mr. Donatelli does this for a living, but I don't know what numbers he's looking at."
WMATA says that they won't be putting the small-ish 14,000-square-foot site immediately back on the market for development. (Note that the parcel housing the taxi company at 37 L is not part of the WMATA land.) The lot has office buildings
20 M
and
1015 Half
to its south and north, and (eventually)
1100 South Capitol
to its west.