(
A sadly well-timed edition of my series of posts looking back on the "old" Near Southeast
)
On August 25, 1984, 24-year-old Sandra Scott of Anacostia went on a birthday visit to her mother, Maudie McBrayer, at her Capper apartment at 920 Third Street, SE. Sandra brought her husband, Theodore "Teddy" Crisp, and their three children, five-year-old Chanta, one-year-old Sophia, and six-week-old baby Tandra.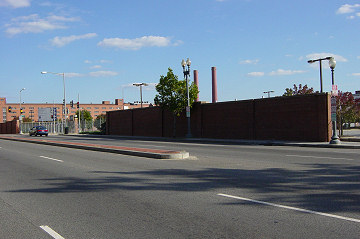 The family then went to a Metrobus stop on the south side of the 200 block of M Street, SE, standing on what was at that time a
narrow sidewalk with the long red brick wall
left over from the Navy Yard days behind it. Also at the bus stop were 18-year-old Charron McKethean and her six-month old daughter Charquita, who lived at 210 L St., SE, in the Cappers; they were going shopping with Charron's best friend Linda Taylor and Taylor's boyfriend Willie Callihan for an outfit for Charquita's christening the next day.
As they waited at around 6:15 pm, a Plymouth Valiant going eastbound at an estimated 70 to 80 mph in the westbound lanes struck the median, went airborne, landed in the eastbound lanes, partially hopped the curb, and struck all nine people waiting for the bus. The car then flipped, crashed, and burst into flames near Third Street.
The Washington Post described rescue personnel calling the resulting scene "one of the most gruesome they had witnessed," with some of the victims having been crushed by the car against the wall and a lamppost on the sidewalk. "I've been 21 years on this job, and I've never seen anything like it," said Fire Capt. James Thorn, saying that the driver had "just ground [the victims] right into" the lamppost and the brick wall.


Seven of group were killed: Sandra Scott and her entire family died, as well as six-month-old Charquita McKethean and Linda Taylor, who was 18 and lived in the 200 block of M Street, SW. It was believed to be the deadliest car accident in the city's history to that time, and appears to still hold that title today.
The driver of car was 41-year-old Robert Lee Williams, whose blood alcohol level at the time of the crash was .10 and who admitted to having used heroin about 25 minutes before the crash. He had been paroled six weeks earlier after serving less than four years of a 20-year sentence for a 1980 bank robbery conviction in Alexandria, and was also on parole in the District for a 1977 armed robbery conviction. There were also convictions for housebreaking, robbery, and grand larceny on his record.
In 1985, Williams pleaded guilty to two counts of manslaughter while armed (with a car) and five counts of manslaughter, along with a count of driving while intoxicated. He was sentenced to 35 to 105 years in prison. At his sentencing, he told the courtroom that he was sorry and would give his "own life to save those kids." Charron McKethean, one of the crash's two survivors and mother of one of the youngest victims, was in the courtroom with her 2 1/2-month-old baby, and told the Post, "I couldn't look at the man that killed my daughter. The sentence was reasonable, but it is not going to bring back any of our lives."