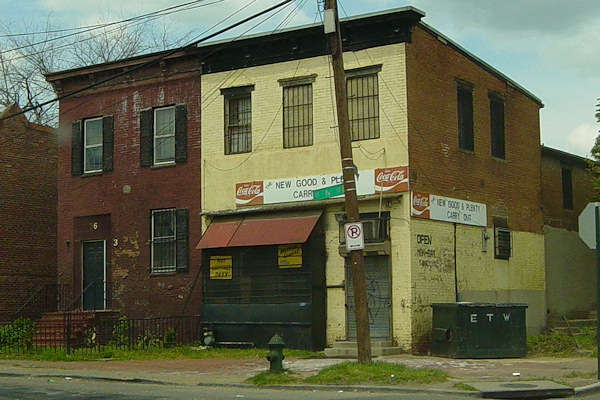 They say you never really know what's going on inside the walls of someone's home, and that certainly would have been the case if you had wandered by the
northwest corner of Half and N
in the early 1980s. The red brick rowhouse at 36 N Street, SE (seen at left in May 2003) would have looked unassuming enough to you, until you opened up your copy of the Washington Post on March 2, 1981, and read this:
"It was his first night at The Playground Swing Club in Southeast Washington, and the 37-year-old Army veteran was ready. He stripped and headed up the red-carpeted stairs to the lounge where a few men and women, most dressed only in robes, were sitting on cushioned floors and platforms. [...] Soon, he and a young woman he had never before met strolled into The Playroom, where bodies were lying in all directions on mattresses and a raised platform. He and the woman joined in. 'Everybody freeze!" a voice suddenly shouted. 'This is a raid!' "

DC police had spent six weeks investigating The Playground, work which included having two undercover police couples "stripped to their underwear [who] spent three hours listening to the friendly discussions and watching the lovemaking." But when the bust happened in February of 1981, there were no charges of anyone paying for sex: the owner eventually was sentenced to 30 days in jail and fined $500 for operating a public hall without a license and failing to have a proper certificate of occupancy for the club. An additional charge of selling alcohol without a license was dropped.
A few of the "participants" at the house that night were charged under the city's sodomy laws, which brought swift condemnation from the ACLU: "Sexual conduct between consenting adults is none of the government's business." The raid also made for titillating reading in the Post, as the paper dryly explained the "swinging" culture: "What was happening at The Playground was a plain and simple orgy--an activity that seems to have become as common among a certain underground of adults as was dancing cheek-to-cheek in the 1930s."
The Playground was closed soon after, and a 1982 attempt to turn 36 N into an "erotica museum" was shot down by the city and neighbors. The rowhouse itself lasted until 2005, getting demolished two years before its neighbors met the wrecking ball as well. The site, now owned by Akridge as part of its
Half Street footprint
, is directly across from
Nationals Park
(which I guess you could also call a swinging establishment!), where
the Bullpen
now provides a different brand of entertainment during baseball season.
As for the Playground's owner? It was
Dennis Sobin
, longtime city activist and
current mayoral candidate
. A
profile of Sobin earlier this year
by the Georgetown Voice gives a quick summary of his years in Washington, including his ownership of multiple strip clubs, adult bookstores, and brothels in the late 70s, a third-place finish in the 1982 mayor's race, and a 10-year prison term in Florida on child pornography charges. He currently runs the
Prisons Foundation
, devoted to prison artists and their work.
(And no, I had no idea that this little item would end up tied to current city politics when I started!)