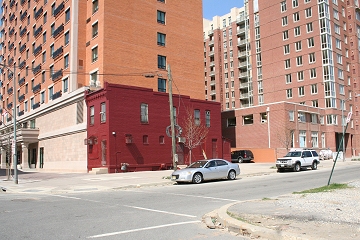 I've gotten an update this evening on what is affectionately referred to around here as the "Little Red Building," the two-story townhouse on the eastern edge of the
Courtyard by Marriott
on L Street, SE. The owner has passed along the news that he has received his construction permits for a new two-story building that will house an upscale liquor store to be known as "Parkway Wine and Spirits." This does mean that the LRB is going to be demolished, and fences should go up tomorrow (Thursday) around the site. He expects the construction to take about five months, and since there will be some noise and disturbance while the work is underway, he wanted neighbors and residents to have advance notice.
Here's the design plans
for the exterior of the new building; hopefully we can also get some information on his operational plans (and what sort of goods he'll be stocking) soon. Looks like the new building will be brick as well, and of a similar design--I hope it'll still be red!