Page Through from Before to After
(Sunday Rearview Mirror is my new probably-not-weekly series where I'll look back at random pieces of Near Southeast history, giving readers who perhaps didn't know the area existed before the arrival of the Nationals some context and understanding of what this once "forgotten" neighborhood used to be like.)

Though I've

documented more than 150 buildings

that have been demolished in Near Southeast since I first started photographing the area (initially in

fall 2000

and then for real beginning in

January 2003

) I had taken enough brief drives through the neighborhood in the late 1990s to know that there were a few other long-standing sites that I didn't manage to capture before they were gone. This has bugged me for years, not only because I hate having missed them for my own archive but because I felt like they were an important part of what made up the old Near Southeast.

So it was with a fair amount of wonderment that I spent time over the past week pouring through images from the

National Park Service's HABS, HAER and HALS

archive of photos,

available online

thanks to the Library of Congress. The collection contains photos taken above New Jersey, Virginia, and Potomac avenues from helicopter height in 1992, and while I had seen some of these before, I had never downloaded the massive .TIFF images that allowed zooming in to such a degree that buildings and streetscapes became clearly visible.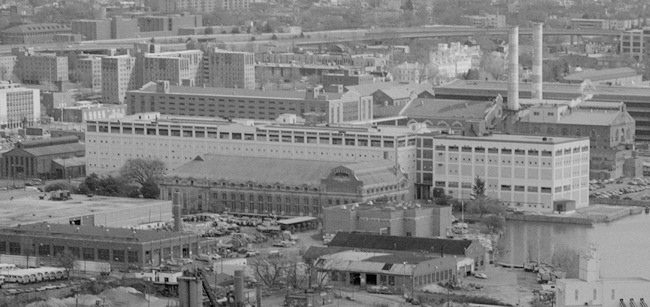 Buildings I had longed to see documented in public domain photographs*, most of which were demolished in 1999 and 2000, now reappeared, albeit from overhead, in black-and-white and what and sometimes only in grainy depictions. But there they were: Tracks, the nightclub at First and M. The four Capper apartment buildings on Seventh Street and Virginia Avenue. The massive Building 159 at the Southeast Federal Center (seen above). The Washington Star warehouse just south of the freeway that I had driven past hundreds of times but never photographed.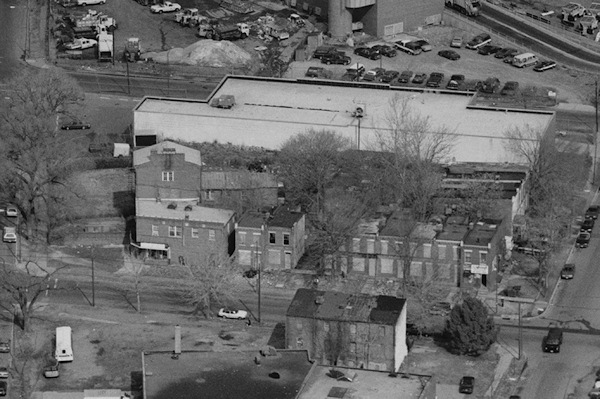 But I found a lot of other "lost" buildings as well, ones that I didn't remember and that probably weren't much to look at at the time, but that help to give a clearer view of what the neighborhood truly looked like just before its first "growth spurt" in 1999-2001 with the arrival of NAVSEA at the Navy Yard. The big finds were the seven or so old rowhouses just north of the (sparkling new) Navy Yard Metro station entrance on New Jersey Avenue, along with another 10 or so along L and Second Streets on what is now the Capitol Hill Tower/Courtyard block. (The Little Red Building did not stand alone since the dawn of time.) The car repair garage and other gritty low-rise buildings that stood where the 1100 New Jersey Avenue office building now is. And so on.
I gathered the images on
a new page
, with
lots
of narration of what they show, along with in some cases early photos of mine that captured a few of the buildings before they disappeared. I'm really thrilled that these pictures finally provide the bridge I've wanted for so long between what Near Southeast looked like for many years and what I captured when I first started nosing around.
In future Rearview Mirror posts I'll be talking more about many of these sites, so I didn't go into great detail on the histories of the buildings themselves, but I'm really happy that now there will be images to accompany the stories. I doubt most people will be as excited by these shots as I have been, but I still really recommend taking a few minutes
to go through them
.
* The "public domain" distinction is important, because I'm sure that photos of many of these buildings exist in other archives, but since they can't be shared online without my ponying up a bunch of $$, they're not of much use to me here.

Records added or updated recently displayed here; click the "archive" links to see additional detail and older records. All data from DC Government databases and RSS feeds. JDLand takes no responsibility for errors, omissions, etc. (read CapStat disclaimer). Data is retrieved daily.


1200 B/O VAN ST SE
THEFT
Theft 2nd Degree (all Other Larceny)
02/23/20
900 B/O NEW JERSEY AVE SE
THEFT
Theft 2nd Degree - Felony (all Other Larceny)
02/22/20
900 B/O 11TH ST SE
THEFT FROM AUTO
Theft (theft From Motor Vehicle)
02/19/20
900 B/O M ST SE
BURGLARY
Burglary Two
02/19/20
1200 B/O HALF ST SE
ROBBERY
02/18/20
UNIT B/O M ST SE
THEFT
Theft 2nd Degree (all Other Larceny)
02/15/20
400 B/O M ST SE
ASSAULT WITH A DANGEROUS WEAPON
02/08/20
300 B/O TINGEY ST SE
THEFT
Theft 2nd Degree (all Other Larceny)
02/02/20
700 B/O L ST SE
THEFT
Theft 2nd Degree (all Other Larceny)
02/01/20
600 B/O VIRGINIA AVE SE
ASSAULT WITH A DANGEROUS WEAPON
01/29/20
1300 B/O 4TH ST SE
THEFT FROM AUTO
Theft (theft From Motor Vehicle)
01/27/20
1100 B/O 8TH ST SE
BURGLARY
Burglary Two
01/25/20
303 VIRGINIA AVE SE
ROBBERY
01/25/20




| | |
| --- | --- |
| Recent Issued Building Permits | Archive |

909 4TH ST SE

02/12/20

MEREDITH FASCETT / null

E2004655 / SUPPLEMENTAL

1300 4TH ST SE APT 214

02/03/20

null / NA NA NA

EHOP20983190 / HOME OCCUPATION

1021 5TH ST SE

02/13/20

KEVIN WILLIAMS / KEVIN WILLIAMS; KEVIN WILLIAMS

B2005053 / CONSTRUCTION

Apply for building permit to have final closing inspection for permit #B1602481 & B1602513 per inspector inspection report since these permits has expired.

150 I ST SE

02/14/20

SQUARE 737 LLC / JASON D DORRIS

AH2000818 / CONSTRUCTION

Construction of a new 13 story apartment building with three below grade parking levels, 1st floor retail, and amenity areas; 375 units and 181 parking spaces. To include mechanical, electrical, plumbing, elevators and structural work.

250 M ST SE

02/14/20

SQUARE 769 LLC / null

P2003901 / SUPPLEMENTAL

800 NEW JERSEY AVE SE

01/30/20

NEW JERSEY AT H LLC / MICHELLE GABBITAS

AH2000649 / CONSTRUCTION

Manhole rehabilitation on New Jersey, 2nd St and M St SE to repair 3 existing sewer manholes in DDOT ROW. Work will all be done through existing manholes (trenchless) and include lining, rebuilding and bypass of existing manholes.

861 NEW JERSEY AVE SE

01/28/20

DISTRICT OF COLUMBIA / JANE MCCRAY

AH2000647 / CONSTRUCTION

Pepco contractor, W.A.Chester, will be splicing cable on 02 / 01 / 2020 - 02 / 28 / 2020, from 9 PM - 7 AM.

1275 NEW JERSEY AVE SE 20003

02/14/20

BROOKFIELD PROPOERTIES / TIM GOOD

AH2000849 / CONSTRUCTION

After hours to conduct work on 1275 New Jersey Ave SE on the upcoming holiday, Presidents Day, February 17, 2020. Operations would include below grade concrete and waterproofing activities with access limited to N Street. This permit would not include extended work hours beyond the normal 7am to 7pm period.

1275 NEW JERSEY AVE SE

01/29/20

US GOVERNMENT / null

E2004153 / SUPPLEMENTAL

01/29/20

MILLER AND LONG / WILLIAM MOORE

AH2000659 / CONSTRUCTION

Afterhours to pour concrete with pump truck from 11pm to 7am from 2 / 6 / 2020 to 3 / 6 / 2020

01/30/20

UNITED STATES OF AMERICA / VINCENT J. BROWNING; VINCENT J. BROWNING

P2003449 / SUPPLEMENTAL

1-Oil / Sand interceptor

01/30/20

US GOVERNMENT / null

E2004202 / SUPPLEMENTAL

02/07/20

MILLER AND LONG / WILLIAM MOORE

AH2000699 / CONSTRUCTION

Afterhours to put up towercrane with mobile crane saturday 2 / 8 / 2020 and 2 / 9 / 2020 from 5am to 1159pm

1299 NEW JERSEY AVE SE

02/18/20

FOREST CITY SEFC LLC / STRAUCHON; SEE BELOW

BCIV1800153 / CONSTRUCTION

Phase 1A BCIV Permit Description - BCIV 1800153 - The subject BCIV permit is for the Phase IA development of Quander St SE, N Pl SE, and 1-1 / 2 St SE within the overall Forest City, Yards West (FCYW) development area which emphasizes: pedestrian-focused public realm, optimized utility corridor, fully integrated SWM design, and complete street and vision zero design. The FCYW Phase IA is comprised...

1322 PATTERSON AVE SE

02/13/20

JOINT BASE ANACOSTIA BOLLING - UNITED STATES NAVAL OBSERVATORY SI / TONYA HARRIS; TONYA HARRIS; TBD

BCIV2000046 / CONSTRUCTION

***FEDERAL PROPERTY*** PROJECT WILL CONSIST OF DREDGING THE EXISTING RETENTION POND AND INSPECTING AND CLEANING THE OUTLET CONTROL STRUCTURE (S1) LOCATED ON THE UNITED STATES NAVAL OBSERVATORY TO REMOVE SEDIMENT ACCUMULATION. CONTRACTOR SHALL AVOID THE CLEARING OF VEGETATION ON POND EMBANKMENTS AND SURROUNDING AREAS SO AS TO KEEP RESTORATION AND REPLANTING TO A MINIMUM.

71 POTOMAC AVE SE

02/13/20

MRP REALTY / JAMES VANEGAS

AH2000681 / CONSTRUCTION

Perform interior and exterior construction activities. New construction 14-story new residential multi-family building.

02/19/20

RIVERFRONT HOLDINGS II, LLC / JUSTIN BISHOP; JUSTIN BISHOP

SP1900054 / CONSTRUCTION

Construct a 680 sqft concrete swimming pool inside an existing waterproofed structural box on the 14th floor. All MEP, decking and fencing work by other trades under separate permits.

227 TINGEY ST SE

02/12/20

GONE YARD HOTEL OWNER LLC / BOB BIROONAK; BOB BIROONAK

SG2000048 / CONSTRUCTION

one double face illuminated blade sign

AH = After Hours; B = Alteration & Repair; D = Demolition; E = Electrical; FB = Boiler; M = Mechanical; P = Plumbing and Gas; PC = Post Card; R = Raze; SG = Sign; TL = Tenant Layout; TN = Tent; RW = Retaining Wall;



No commercial transaction records added or modified in the past two weeks.