Page Through from Before to After
(For someone who graduated from college with a degree in history, I have done a lousy job over the years of documenting the history of Near Southeast with anything approaching the zeal of my coverage of its present and future. I can offer no good excuses, but I'm going to begin to rectify this with a new series, "Sunday Rearview Mirror." I don't pretend to have the level of knowledge or experience of the pre-ballpark era as those who passed through Near Southeast during those years, but hopefully by taking the time every so often to highlight and describe events from the past I can help make sure that the new residents and workers who only recently heard of Near Southeast have some awareness of the people and events that came before them.)

It was in the 1970s that the western edge of Near Southeast became home to a new entertainment district for the city's gay residents, with its remoteness and lack of nearby residences allowing some measure of freedom for a culture that was only just beginning to step out of the closet. The area between South Capitol and First streets--with clubs like the Lost and Found, Club Baths II, Grand Central, Waaay off Broadway and Washington Square--became home not only to nightclubs with dancing and music but also but bathhouses, x-rated movie cinemas, and strip clubs. One of the new clubs was the Cinema Follies, which opened in 1975 at 37 L St., SE, showing x-rated gay films.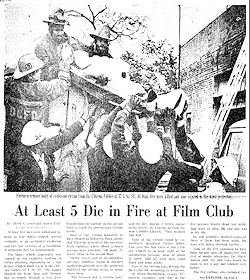 On Oct. 24, 1977, an explosion on the ground floor triggered by cleaning chemicals started a fire, with flames quickly consuming carpeting and wall hangings, blocking the exit for the patrons who had been in the 50-seat second floor theater. The fire never reached the second floor, but the smoke quickly became overpowering. However, a door that led to the roof was padlocked, and the windows had been replaced with cinderblocks. According to the Washington Post's account, "most of the victims were found in the orange-and-black theater seats [...] and may have been overcome by the smoke before they realized what was happening."
Nine people died as a result of the fire, making it the deadliest fire in Washington DC up to that time, a mark that stood until a fire at an unlicensed group home on Lamont Street, NW, killed 10 in April 1979. Identification of those who died at the Follies was hampered by the fact that, as the Post reported, "Many homosexuals do not carry identification when they visit homosexual gathering places," being "wary about the possibility of jeopardizing jobs or social position by having nonhomosexuals learn of their sexual orientation" in case their presence at club might be made public "through a police raid or other event."
(An interesting sidelight to the issue of identification was a column by Post ombudsman Charles Seib soon after the fire, questioning the Post's decision to not use the full names of some of those who died and no names at all of the injured. The column quoted then-Managing Editor Howard Simon as saying that the paper's main motivation was "compassion for the wives and children" [since some of the victims were married] but Seib went on to ask whether this approach had the effect of "underscoring the stigma of homosexuality, of shoving it back in the closet at a time when efforts are being made to bring it out and address it as a social fact?" This is an issue that papers still clearly struggle with,
even today
.)


William Oates, the manager of the club, was eventually fined $650 in 1979 for violating four building codes, though city officials stated that Oates "did everything possible" to try to comply with the laws, but poor city record keeping and poorly written codes made it difficult. (The city did work to strengthen its codes in the wake of the fire.) However, nearly eight years after the fire, in September of 1985, families of four of the victims were awarded more than $1.5 million in a civil suit against the club's owners.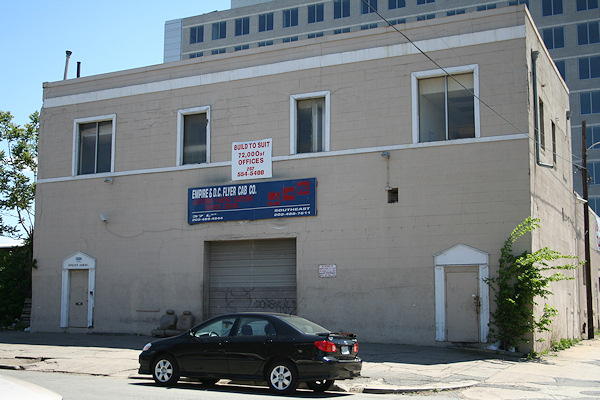 Within a year or the fire, Oates opened "The Follies" at its
new location
at 24 O St., SE, where it operated until it was
demolished with many other gay nightclubs
in May 2006 to make way for
Nationals Park
. Somewhat amazingly, the building where the Cinema Follies fire took place, which was not all that heavily damaged,
still stands today
, on L Street directly across from the under-construction
1015 Half office building
. It's currently home to a cab company.
I plan to write more Rear-View Mirror entries in the future about the neighborhood's past as a nightclub district, but until then,
this 2003 pamphlet
by the
Rainbow History Project
gives a great overview of the clubs that used to be such an integral part of Washington's gay culture. Hard to believe that, when the pamphlet was written, the authors had no idea how little time the existing clubs had left.

Records added or updated recently displayed here; click the "archive" links to see additional detail and older records. All data from DC Government databases and RSS feeds. JDLand takes no responsibility for errors, omissions, etc. (read CapStat disclaimer). Data is retrieved daily.


900 B/O 11TH ST SE
THEFT FROM AUTO
Theft (theft From Motor Vehicle)
02/19/20
900 B/O M ST SE
BURGLARY
Burglary Two
02/19/20
1200 B/O HALF ST SE
ROBBERY
02/18/20
UNIT B/O M ST SE
THEFT
Theft 2nd Degree (all Other Larceny)
02/15/20
400 B/O M ST SE
ASSAULT WITH A DANGEROUS WEAPON
02/08/20
300 B/O TINGEY ST SE
THEFT
Theft 2nd Degree (all Other Larceny)
02/02/20
700 B/O L ST SE
THEFT
Theft 2nd Degree (all Other Larceny)
02/01/20
600 B/O VIRGINIA AVE SE
ASSAULT WITH A DANGEROUS WEAPON
01/29/20
1300 B/O 4TH ST SE
THEFT FROM AUTO
Theft (theft From Motor Vehicle)
01/27/20
1100 B/O 8TH ST SE
BURGLARY
Burglary Two
01/25/20
303 VIRGINIA AVE SE
ROBBERY
01/25/20
400 B/O M ST SE
THEFT
Shoplifting
01/23/20




| | |
| --- | --- |
| Recent Issued Building Permits | Archive |

909 4TH ST SE

02/12/20

MEREDITH FASCETT / null

E2004655 / SUPPLEMENTAL

1300 4TH ST SE APT 214

02/03/20

null / NA NA NA

EHOP20983190 / HOME OCCUPATION

1021 5TH ST SE

02/13/20

KEVIN WILLIAMS / KEVIN WILLIAMS; KEVIN WILLIAMS

B2005053 / CONSTRUCTION

Apply for building permit to have final closing inspection for permit #B1602481 & B1602513 per inspector inspection report since these permits has expired.

82 I ST SE

01/27/20

GDV EYE STREET LLC / null

P2003302 / SUPPLEMENTAL

01/27/20

GDV EYE STREET LLC / null

M2001261 / SUPPLEMENTAL

100 I ST SE APT T-13

01/25/20

null / NA NA NA

EHOP20960826 / HOME OCCUPATION

150 I ST SE

02/14/20

SQUARE 737 LLC / JASON D DORRIS

AH2000818 / CONSTRUCTION

Construction of a new 13 story apartment building with three below grade parking levels, 1st floor retail, and amenity areas; 375 units and 181 parking spaces. To include mechanical, electrical, plumbing, elevators and structural work.

250 M ST SE

02/14/20

SQUARE 769 LLC / null

P2003901 / SUPPLEMENTAL

800 NEW JERSEY AVE SE

01/30/20

NEW JERSEY AT H LLC / MICHELLE GABBITAS

AH2000649 / CONSTRUCTION

Manhole rehabilitation on New Jersey, 2nd St and M St SE to repair 3 existing sewer manholes in DDOT ROW. Work will all be done through existing manholes (trenchless) and include lining, rebuilding and bypass of existing manholes.

861 NEW JERSEY AVE SE

01/28/20

DISTRICT OF COLUMBIA / JANE MCCRAY

AH2000647 / CONSTRUCTION

Pepco contractor, W.A.Chester, will be splicing cable on 02 / 01 / 2020 - 02 / 28 / 2020, from 9 PM - 7 AM.

1275 NEW JERSEY AVE SE 20003

02/14/20

BROOKFIELD PROPOERTIES / TIM GOOD

AH2000849 / CONSTRUCTION

After hours to conduct work on 1275 New Jersey Ave SE on the upcoming holiday, Presidents Day, February 17, 2020. Operations would include below grade concrete and waterproofing activities with access limited to N Street. This permit would not include extended work hours beyond the normal 7am to 7pm period.

1275 NEW JERSEY AVE SE

01/29/20

US GOVERNMENT / null

E2004153 / SUPPLEMENTAL

01/29/20

MILLER AND LONG / WILLIAM MOORE

AH2000659 / CONSTRUCTION

Afterhours to pour concrete with pump truck from 11pm to 7am from 2 / 6 / 2020 to 3 / 6 / 2020

01/30/20

UNITED STATES OF AMERICA / VINCENT J. BROWNING; VINCENT J. BROWNING

P2003449 / SUPPLEMENTAL

1-Oil / Sand interceptor

01/30/20

US GOVERNMENT / null

E2004202 / SUPPLEMENTAL

02/07/20

MILLER AND LONG / WILLIAM MOORE

AH2000699 / CONSTRUCTION

Afterhours to put up towercrane with mobile crane saturday 2 / 8 / 2020 and 2 / 9 / 2020 from 5am to 1159pm

1299 NEW JERSEY AVE SE

02/18/20

FOREST CITY SEFC LLC / STRAUCHON; SEE BELOW

BCIV1800153 / CONSTRUCTION

Phase 1A BCIV Permit Description - BCIV 1800153 - The subject BCIV permit is for the Phase IA development of Quander St SE, N Pl SE, and 1-1 / 2 St SE within the overall Forest City, Yards West (FCYW) development area which emphasizes: pedestrian-focused public realm, optimized utility corridor, fully integrated SWM design, and complete street and vision zero design. The FCYW Phase IA is comprised...

1322 PATTERSON AVE SE

02/13/20

JOINT BASE ANACOSTIA BOLLING - UNITED STATES NAVAL OBSERVATORY SI / TONYA HARRIS; TONYA HARRIS; TBD

BCIV2000046 / CONSTRUCTION

***FEDERAL PROPERTY*** PROJECT WILL CONSIST OF DREDGING THE EXISTING RETENTION POND AND INSPECTING AND CLEANING THE OUTLET CONTROL STRUCTURE (S1) LOCATED ON THE UNITED STATES NAVAL OBSERVATORY TO REMOVE SEDIMENT ACCUMULATION. CONTRACTOR SHALL AVOID THE CLEARING OF VEGETATION ON POND EMBANKMENTS AND SURROUNDING AREAS SO AS TO KEEP RESTORATION AND REPLANTING TO A MINIMUM.

71 POTOMAC AVE SE

02/13/20

MRP REALTY / JAMES VANEGAS

AH2000681 / CONSTRUCTION

Perform interior and exterior construction activities. New construction 14-story new residential multi-family building.

02/19/20

RIVERFRONT HOLDINGS II, LLC / JUSTIN BISHOP; JUSTIN BISHOP

SP1900054 / CONSTRUCTION

Construct a 680 sqft concrete swimming pool inside an existing waterproofed structural box on the 14th floor. All MEP, decking and fencing work by other trades under separate permits.

227 TINGEY ST SE

02/12/20

GONE YARD HOTEL OWNER LLC / BOB BIROONAK; BOB BIROONAK

SG2000048 / CONSTRUCTION

one double face illuminated blade sign

AH = After Hours; B = Alteration & Repair; D = Demolition; E = Electrical; FB = Boiler; M = Mechanical; P = Plumbing and Gas; PC = Post Card; R = Raze; SG = Sign; TL = Tenant Layout; TN = Tent; RW = Retaining Wall;



No commercial transaction records added or modified in the past two weeks.