Back before it was painted all manner of shades of blue, the building on the northwest corner of Eighth and M known as the "Blue Castle" was a car barn for the DC streetcar system. Madison Marquette, now the owners of the building, have just posted on Facebook
a bunch of historic photos
showing both the building in its pre-blue days as well as lots of shots of the old DC trolleys and streetcars. Definitely worth checking out.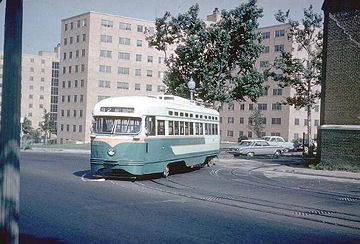 And this gives me an excuse to link to
my own Historic Photos page
, which includes some of the photos that Madison Marquette posted along with others of the neighborhood from about 1918 to 1992. (There's also my
Historic Maps page
, for plats showing the neighborhood for various years between 1903 and 1921, if you want more wayback goodness.)
There are a lot more cool historic Near Southeast images out there, but unfortunately some libraries and historical societies tend to be quite strict about reproducing photos from their archives (often requiring payment even for use of low-res images that already exist online), so rather than those photos getting seen by people who are truly interested, they languish in file cabinets or little-used online databases. It's a shame, because I could have a lot of fun with them, but the attendant bureaucracy has pretty well stifled my interest in pursuing them any farther or even linking to them. Plus I'm too honorable to just steal the thumbnails and post them anyway, which I could certainly do. (And you can be very sure that my photos will never end up with these levels of restrictions.)
At least the
great archive of historic photos
that DDOT had begun to populate a few years ago is still around (though not on their new site, you kind of have to go digging for it via Google). Hopefully they'll get around to adding more shots. I've got a scanner, DDOT, let me at them!