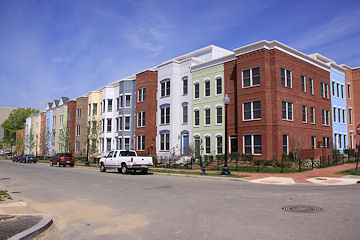 The news has filtered my way that EYA is about to begin taking reservations for market-rate townhouses in the second phase of
Capitol Quarter
. The timeframe is *very soon*, quite possibly within the next week or so. This phase will cover the three remaining blocks of the development, between Third and Fourth streets SE, south of I down to the stretch just south of L (backing up to the 300 M Street office building). There will be infrastructure work to do first (including carving out the new north-south "3 1/2 Street" running between I and L), with "vertical construction" then starting in the fall, followed by the first move-ins happening in mid-2011. There will be 77 market-rate and 34 workforce-rate houses, 47 affordable rental units, and five Section 8 purchase units. (There will be a lottery for the workforce units, but I don't know when.)
When I get word of when reservations will start being taken, I will post ASAP. I don't know if there will be people camping out like in the
old
days
, but it will be interesting to see the response. I don't know anything about prices or anything else beyond the fact that we'll know more soon.
One footnote that might be of interest: what helped get this second phase kicked off was the
$9.5 million grant from HUD
that the DC Housing Authority received late last year, which came from a pool of federal stimulus funds. DCHA had been unable to get any financing for the second phase throughout last year thanks to the moribund municipal bond market, but the HUD grant allowed DCHA to pay for the completion of construction drawings, the land preparation costs, and other costs that then made it possible for the second phase to begin to move forward.