Best not to speak of
what happened on the field
, or about the ratio of Phillies fans to Nats fans (at least the shared red-and-white team colors makes it a little less obvious), but despite all of that, it was a warm and sunny start to the Nationals' 2010 season, and I wandered and
took some photos of the scene
at and around the ballpark as the day got underway.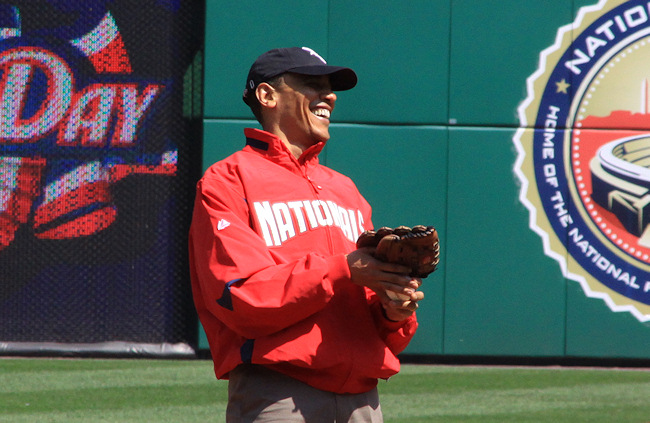 The big part of the pregame ceremonies, of course, was the throwing out of the first pitch by President Obama. I gave my camera's high-speed-shutter quite a workout to catch the action (though not the ball's trajectory to the plate--ahem), and so here's my
Presidential First Pitch photo gallery
as well.
And now we'll wait to hear how the arrivals and departures of 41,000 people went. Things didn't look too bad, with the stadium being mostly full at gametime, but there were no doubt problems with full parking lots, lengthy magnetometer lines, and the game letting out just as rush hour starts. Though I'm guessing that the stadium didn't exactly *stay* crowded, given the scoreline, allowing for a more evenly spaced departure crowd, rather than the entire throng being dumped onto Half Street at the end of a 3-2 thriller. But I'll update this entry with links to any media pieces on transportation nightmares.