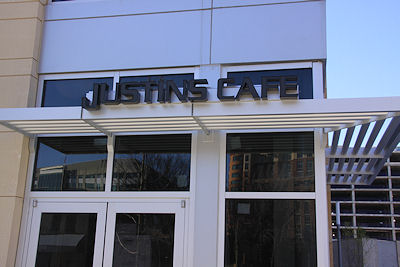 From last night's meeting of ANC 6D's ABC Committee, some bullet points on Justin's Cafe, the planned "fast casual" restaurant in the ground floor of
Velocity
on First Street between K and L (some of these are old, some are new, but for those just tuning in...):
* Justin Ross, the owner, is hoping to open the place by late January, although because of some issues with an ill partner, the liquor license has not yet been applied for, but he hopes that the paperwork will be filed with the city within the next week. (He won't open the restaurant until the liquor license has been granted, although he says the construction is now about 85 percent done.) He's applying for a Class C restaurant license, for beer, wine, and liquor.
* Expected hours are 11:30 am to 11 pm for food service (10 pm Sunday), with hopes that the bar can stay open later, perhaps until 2 am Friday/Saturday and 1 am other days.
* The space is not huge, about 1,400 square feet--it will have 24 seats for eating, and nine stools at the bar. There will be no outside tables. It will be an order-at-the-counter-and-sit set up (though he also expects a fair amount of takeout orders for nearby offices).
* No live entertainment, just TVs and music.
* The menu is salads and soup, sandwiches/paninis, and American-Neapolitan pizzas. Lots of veggies with the sandwiches and on the pizzas (he handed out a draft of it at the meeting). Sweet potato fries are on the menu, and bread choices are three-grain wheat, ciabatta, baguette, and spinach tortilla wrap (along with white/wheat crusts for the pizzas).
Nats fans should note that this will become the closest *indoor* bar to the
ballpark
, as it's only two blocks north of the parking garages.
The ANC and Justin will be negotiating a voluntary agreement, which will probably go to the ANC for approval at its January meeting, but the subcommittee members and the 6D commissioners in attendance seem very pleased with the project.