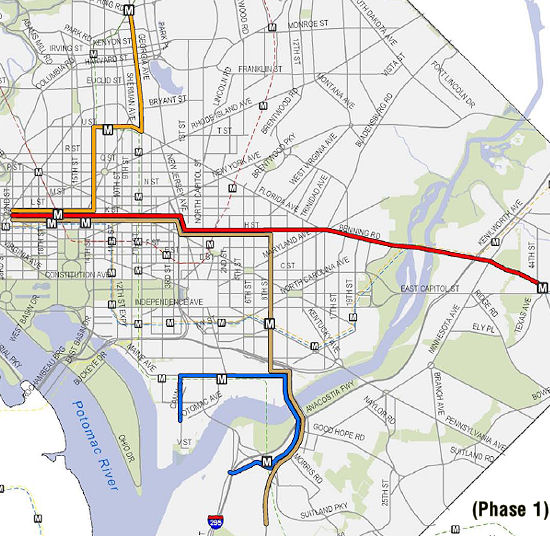 Last night DDOT held the first of its
eight public meetings
to unveil its vision for a
37-mile-long network of streetcar lines
connecting various portions of DC in three phases,
the first of which
would include a line running from MLK Avenue in Anacostia across the 11th Street Bridge, eastward on M Street SE, and then terminating
at
one block west of Nationals Park. (Phase 3 would include a separate line starting from the same
Nats Park
terminus, running along M Street SW and up Seventh Street into downtown.) You can see
a larger map of all three phases
at
DDOT's Streetcar site
.
I didn't attend the meeting, partially because of time constraints but also because I figured the transit bloggers of the city would be all over it;
here's GGW's first post on the plans
. These routes aren't set in stone, and in fact Tommy Wells has already expressed his preference that the line shown running along Barracks Row be moved to Hill East to support the expected development there. And I don't believe any timeline of when these phases could be expected was mentioned.
How do we all feel about not only the proposed Near Southeast route, but the plans for streetcars in DC in general?
(UPDATED Oct. 26 after a commenter correctly pointed out that the line is to run down First Street, SW, ending at R Street, not along South Capitol to the ballpark. I need new glasses.)