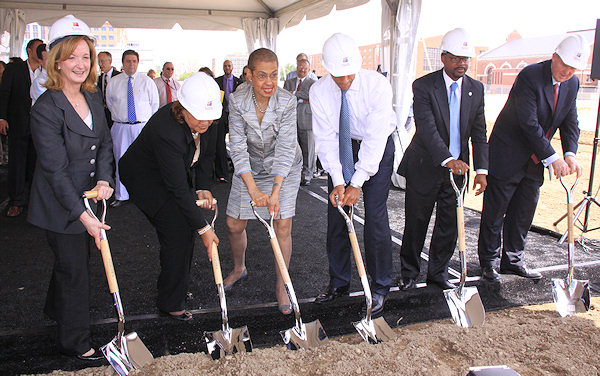 I'll let the gaggle of "real" media that was on hand today cover what was said (check back later today for links), but I can at least provide some photos from
today's groundbreaking
on the $42 million five-acre
Park at the Yards
, the first phase of which is scheduled to open in the middle of next year. Mayor Fenty, councilmembers Tommy Wells and Kwame Brown, DC delegate Eleanor Holmes Norton, and Forest City Washington president Deborah Ratner Salzberg did the honors of turning the dirt (the mayor and Eleanor took at shot with some heavier equipment, too, as you'll see in the photos). And, just for history's sake (and because it all looks kind of familiar), here's
photos from the October 2007 groundbreaking
for the
Yards
itself.
The park is being funded by the proceeds from the
USDOT
payment-in-lieu-of-taxes bonds, and the park will be dedicated to the city when it is completed. The Capitol Riverfront BID will be in charge of maintaining the park--in fact,
my photo gallery from last year's announcement
of the public-private partnership has some good renderings of the park, though for all the scoop and images on the park's three phases (and what the area looks like now), go to my
Yards Park page
.
UPDATE:
First out of the gate is
WBJ
, using Fenty's "a world class city needs a world-class waterfront" quote that I was totally going to post myself, except I didn't bring a pad and paper and so didn't get it written down. (Also, the park isn't "five blocks east" of
Nationals Park
--more like two, from First to Third, and even that's being a bit over-cautious, since the western edge of the park will be a new extension of Second Street, just to the east of the WASA main pumping station.)
UPDATE II:
Here's
Fox5's report
, which doesn't quite get that the groundbreaking was for the park and not all of the Yards, where work has already been underway. And their ID'ing of "Deborah Ratner Salisbury" doesn't help, either.
NBC4's piece
is more accurate. ABC7
appears to have run a report
, but it's not on their web site (yet).
UPDATE IV: A new night-time overhead rendering: