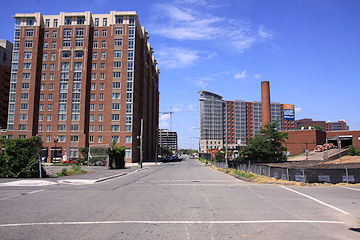 The clearing of the northern block of
Canal Park
is now pretty well complete, so I had to go get some photos, from both the
east
and
west
sides (you'll see the new ones paired with their "befores", in case you've already forgotten the fences and overgrowth). I also scooted past Wendy's, where the
demolition was continuing
and is probably done by now, making it #155 in my
Demolished Buildings gallery
--as soon as I get around to actually adding it.
I also swung over to
12th and M
to check on the demolition of the ramps to and from RFK, but the first few days of work appears to have been on decking (not viewable from street level), so no before-and-afters from there yet. Maybe next week.