With thanks to Mom for decreeing that my Mother's Day responsibilities had been taken care of
last week
, I was able to take not one but two treks through Near Southeast on this beautiful Sunday, and have uploaded a pile of new photos. Some--like the ones I took at
909 New Jersey
and
55 M
--are the last ones I expect to take of certain angles for a long time to come, but I did get some good "change" shots:

There's now a sign up at "The Bullpen" at
Half and N
(opening Friday?), and I also snuck a shot of the tent and piled-up picnic tables, which you can see on my
Akridge Half Street page
(scroll down a bit if the link doesn't jump you down). You'll also see updated shots of the garage-less Half and M corner.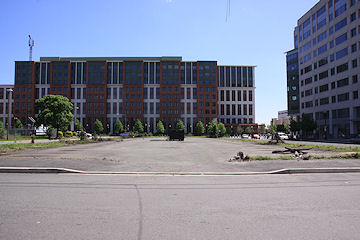 It's not very easy to take a picture that well-represents the lack of cyclone fences, but I gave it a shot with a
few
different
angles
of the south end of
Canal Park
. I have to admit that was I was surprised by how much wider the block now seems; when it becomes a real park, with tall buildings on all sides, that extra width will be welcome.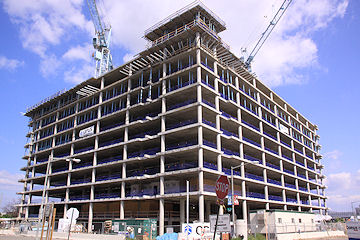 Next up is
1015 Half Street,
the 400,000-sq-ft office building now topping out on the old Nation nightclub site. With Half, K, and L being so narrow, it's not a bad idea to step back a block or two to see 1015's impact on the skyline, so check out the
Expanded Photo Archive
. The next phase of construction should be the hanging of the exterior glass.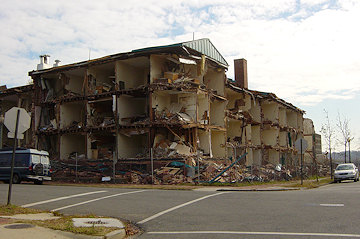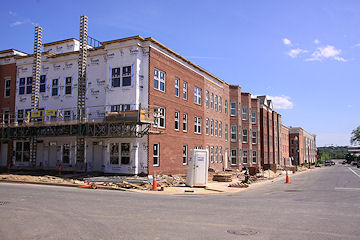 It's pretty hard to stay away from the goings-on at
Capitol Quarter
, as brickwork is all but complete along Fourth between I and K. The
Expanded Archive
shows all the CQ shots I took today, along with the ones from two weeks ago showing the first completed stretch of homes, on the south side of L between Fourth and Fifth.
You might also see a few new shots of
Onyx
,
100 M
, and
Velocity
if you visit those pages, and some other


images in the random shots at the top (and bottom) of the JDLand home page, since I took a pretty complete set of photos from New Jersey to Half and from M to I. And, without much new construction going on, I don't anticipate taking many photos other than at Capitol Quarter and 1015 Half (and I guess
Teague
and Canal parks) over the next few months. (I'll also be ready if/when Akridge demolishes the buildings
along First between K and L
.) So, enjoy these, and take the time to really compare them to their "befores."