| | |
| --- | --- |
| February 3, 2005 | May 26, 2013 |

3rd at L, Looking North-Northwest (see more)
Catching up from a few days of slacking:
---
NatsFan
says: (
4/24/09 8:46 PM
)
DC should hold out until the economy straightens out and wait for a major developer to take over the Old Post Plant.
---
Add a Comment:
Comments are closed for this post.
JDLand Comments RSS Feed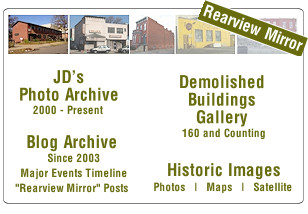 Records added or updated recently displayed here; click the "archive" links to see additional detail and older records. All data from DC Government databases and RSS feeds. JDLand takes no responsibility for errors, omissions, etc. (read CapStat disclaimer). Data is retrieved daily.


3RD PLACE SE AND K ST SE
MOTOR VEHICLE THEFT /
12/04/13
200 B/O K ST SE
THEFT F/AUTO /
11/28/13
1100 B/O NEW JERSEY AVE SE
THEFT F/AUTO /
11/26/13
POTOMAC AVE SE AND SOUTH CAPITOL ST
ASSAULT W/DANGEROUS WEAPON /
11/22/13
200 B/O M ST SE
THEFT /
11/21/13
1100 B/O CUSHING PLACE SE
THEFT F/AUTO /
11/21/13
400 B/O TINGEY ST SE
THEFT /
11/19/13
1000 B/O 8TH ST SE
THEFT F/AUTO /
11/16/13
800 B/O 3RD ST SE
MOTOR VEHICLE THEFT /
11/14/13
700 B/O M ST SE
THEFT F/AUTO /
11/12/13
K ST SE AND 5TH ST SE
THEFT F/AUTO /
11/11/13




| | |
| --- | --- |
| Active Public Space Permits | Archive |

1011 1ST ST SE
COLIN CLARK
Pending


excavation; new

03/03/14
to
05/01/14
COLIN CLARK
Approved (Pending Payment)


paving; landscaping; new

04/23/14
to
06/27/14
200 - 299 BLOCK TINGEY ST SE
Northeast Remsco Construction Incorporated
Pending


paving; excavation; new

01/01/13
to
12/31/13
100 M ST SE
WASHINGTON GAS
Assigned


excavation

04/23/13
to
04/22/14
1201 M ST SE
Michael Manoski
Pending Document


excavation

05/06/13
to
05/05/14
1333 M ST SE
WASHINGTON GAS
Assigned


excavation

05/01/13
to
04/30/14
1111 NEW JERSEY AVE SE
NJA Associates LLC
Assigned


paving; streetfixture; landscaping; excavation; new

06/03/13
to
06/02/14
125 O ST SE
TRAYLOR/SLANSKA/JAY DEE JOINT VENTURE(DAMIAN RUPPERT)
Issued


paving; streetfixture; new

12/24/12
to
12/23/13
300 TINGEY ST SE
Northeast Remsco Construction Incorporated
Pending


paving; excavation; new

12/14/12
to
12/13/13
301 TINGEY ST SE
Chuchart Kampirapang
Assigned


06/07/13
to
06/06/14
Potbelly Sandwich Works LLC
Issued


new

03/21/12
to
11/27/14