A brief morning walkabout brought the following items: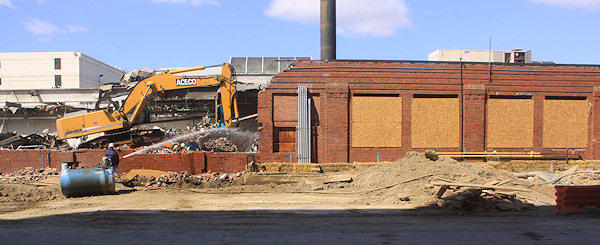 * The demolition of the old WMATA Southeastern Bus Garage at Half M continues; they had reached as far north as just across from the subway entrance at around 11:30, so the M Street facade could conceivably be gone by the end of today or early on Tuesday. You can see a couple of photos (like a bigger version of the one above) on my
Akridge Half Street page
, though the photos won't be as striking until the demolition reaches M Street.
* A nice fellow working at the schoolbus parking lot at
Canal Park
told me that the buses are being moved to their new home at DC Village on Saturday and Sunday (April 4 and 5), with drivers expected to report to work at the new lot on Monday morning, April 6. So, it does indeed sound like this is the last week of the Sea of Yellow.

* Look Mom, a Circulator bus! (This is the stop at First and K, before it turns right on I and circles back down New Jersey to the subway entrance.) You can see it lurking in a few other updated photos I took at
New Jersey and M
.
UPDATE:
There apparently was a boo-boo with the information on the DC Circulator site--the bus will be running from 6 am to 7 pm weekdays (it had said 6-6). They've also
updated their service map
to correct some errors.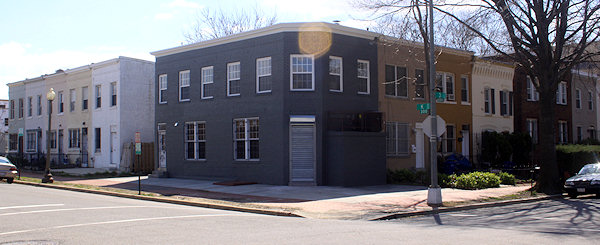 * The Nats are having a "soft launch" for their new food concessionaire (Levy Restaurants) via a series of invitation-only events this week. Tonight employees of the Navy Yard will be sampling the new food, and there will also be events on Tuesday and Wednesday for local businesses and invitees of the BID. On Friday the media will get its shot. I will report back later in the week, though I won't be able to provide doggie bags for everyone.