(a random before-and-after moment)
| | |
| --- | --- |
| | August 5, 2017 |
I don't dare tally up how many photos I've taken over the past 12 months, but suffice to say it's a lot. That didn't stop me from a quick lunchtime trek around the neighborhood to grab my final pictures of 2008, with a starkly blue sky as an end-of-year gift. Here's a boatload of before-and-afters for your perusal: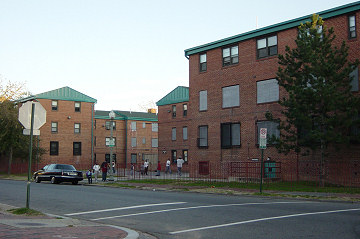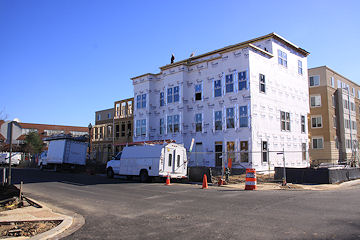 I started at
Capitol Quarter
, where the first three townhouses at Fourth and L are already framed, wrapped, and window'ed (I imagine the developers are trying to get those units finished as close to "on schedule" as possible). Here's the
before-and-afters for the intersection's southwest corner
; be advised that taking southward-facing photos in winter is no fun at all, so apologies for all glare, skipped angles, etc.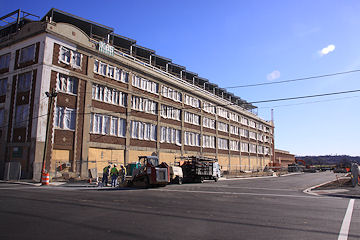 I next ventured to
The Yards
(USDOT security guards be damned!) for updated photos of the
Foundry Lofts construction
, where most of the framing of the two new top floors appears to be finished. And both Third and Tingey streets are now nicely paved and curbed, which you can see along with the Foundtry Lofts construction in these
Third and Tingey photos
, and also in shots from one block west, at what someday will be
Second and Tingey
. And, for the heck of it, here's a few new
New Jersey and Tingey images
. (Remember to look for the


icon, as always.)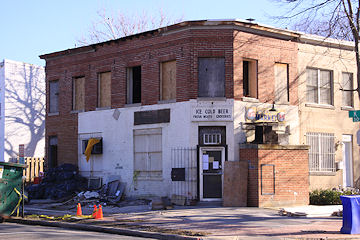 And, acting on tips from alert readers, I checked out the
Third and K Market
, which is now being gutted. There was no one around to answer any questions as to what is up, but seeing work getting done a few months after a For Rent sign went up (and quickly disappeared) would seem to be a good sign....?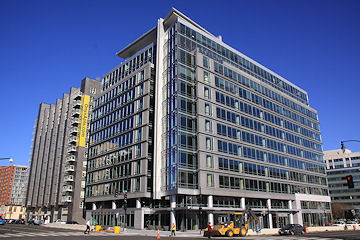 I also went to First and M, where workers at
100 M
have now given back one lane of M Street and told me that the median east of First will be rebuilt soon (as the one west of M recently was). The silver bullding against the unbelievably blue sky makes for a nice tableau
in these updated photos
.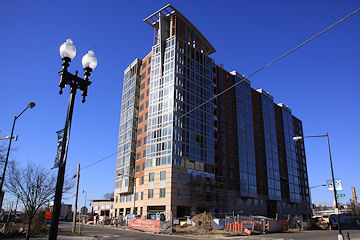 There are also a few updated shots of
909 New Jersey
, taken mainly from the
First and I intersection
, which is also notable for the nice little fence and landscaping that's now gone in across the empty lot to the east of
100 I
, visible in
many of these new photos
.
Will that tide everyone over until the new year? I know I'm now good for a while....!
---
---
---
400 M dweller
says: (
12/30/08 2:34 PM
)
I love your website it really keeps me up to date on what is happening in this neighborhood..keep up the excellent work!
---
---
Brandon
says: (
12/30/08 4:04 PM
)
I agree with 400 M Dweller--this site is one of the most complete local blogs I've seen! Happy new year!
---
Add a Comment:
Comments are closed for this post.
JDLand Comments RSS Feed

Records added or updated recently displayed here; click the "archive" links to see additional detail and older records. All data from DC Government databases and RSS feeds. JDLand takes no responsibility for errors, omissions, etc. (read CapStat disclaimer). Data is retrieved daily.


300 B/O K ST SE
BURGLARY
Burglary Two
01/13/18
1000 B/O 4TH ST SE
THEFT FROM AUTO
Theft (theft From Motor Vehicle)
01/11/18
500 B/O M ST SE
THEFT FROM AUTO
Theft 2nd Degree (theft From Motor Vehicle)
01/09/18
900 B/O 4TH ST SE
THEFT
Theft 2nd Degree (all Other Larceny)
01/07/18
100 B/O I ST SE
MOTOR VEHICLE THEFT
Theft First Degree (Stolen Auto)
01/04/18
400 B/O M ST SE
THEFT
Theft 2nd Degree (all Other Larceny)
01/04/18
400 B/O M ST SE
THEFT
Shoplifting
01/02/18
UNIT B/O K ST SE
THEFT
Theft 2nd Degree (theft From Building)
12/31/17
400 B/O M ST SE
THEFT
Theft 2nd Degree (all Other Larceny)
12/19/17




| | |
| --- | --- |
| Recent Issued Building Permits | Archive |

1331 2ND ST SE

12/22/17

DC WATER / DAVE LEVINE

AH1800369 / CONSTRUCTION

After Hours work for structure excavation and support for B1311474 DC Water, Corman Construction 301-343-5417. TO EXCLUDE LEGAL HOLIDAYS.

1331 4TH ST SE CU

12/27/17

FC 1331 LLC / GARY BRENT; N/A

SG1800119 / CONSTRUCTION

Install 1 illuminated blade sign and 7 non-illuminated window vinyl signs - CHLOE BY HAIDAR KAROUM

12/28/17

FC 1331 LLC / BEN BEDDO

TL1700205 / CONSTRUCTION

New Tenant Layout for restaurant

1300 4TH ST SE

01/05/18

FORREST CITY WASHINGTON / GEORGE ARTHUR KING

SB1800091 / CONSTRUCTION

To abandon 18 6 inch diameter 80 foot deep dewatering wells and 4 2 inch diameter 50 feet deep observation wells per the DOEE regulations

1346 4TH ST SE

01/12/18

ALAN OWINGS / ROBERT HENRY

AH1800415 / CONSTRUCTION

After Hours Permit for 1 / 15 / 18 from 7AM to 7PM to perform concrete operations, framing, operations, and utility operations.

411 I ST SE

12/27/17

ABIGAIL A SMITH / ROBERT D. JOHNSTON

E1802679 / SUPPLEMENTAL

337 L ST SE

12/22/17

JENNIFER LANCASTER / null

E1802602 / SUPPLEMENTAL

01/11/18

JENNIFER LANCASTER / BJORN FALK

SOL1800005 / CONSTRUCTION

Installation of a 3.6kW solar PV system. Roof Mounted, 10 panels

300 M ST SE STE# 400

01/03/18

FEDERAL CENTER LP / SAM HOLLEN

B1803531 / CONSTRUCTION

INTERIOR RENOVATION TO 4TH FLOOR OFFICE CONFERENCE ROOM. PARTITIONS, CEILING, MECHANICAL, ELECTRICAL AND LIFE SAFETY. NO PLUMBING OR STRUCTURAL. 680 SQUARE FEET. CACI SUITE 400

25 POTOMAC AVE SE DOCK 79

01/11/18

RIVERFRONT HOLDINGS I LLC / null

P1802701 / SUPPLEMENTAL

227 TINGEY ST SE

12/29/17

JW CAPITAL PARTNERS / MELISSA DIAZ

FD1700126 / CONSTRUCTION

Parcel L1- Foundation to Grade permit for the new construction on an 11 story full service hotel building with restaurant and retail.

AH = After Hours; B = Alteration & Repair; D = Demolition; E = Electrical; FB = Boiler; M = Mechanical; P = Plumbing and Gas; PC = Post Card; R = Raze; SG = Sign; TL = Tenant Layout; TN = Tent; RW = Retaining Wall;



No commercial transaction records added or modified in the past two weeks.