Sliding from Before to After
I don't dare tally up how many photos I've taken over the past 12 months, but suffice to say it's a lot. That didn't stop me from a quick lunchtime trek around the neighborhood to grab my final pictures of 2008, with a starkly blue sky as an end-of-year gift. Here's a boatload of before-and-afters for your perusal: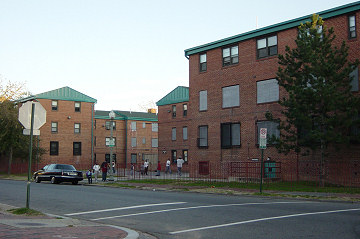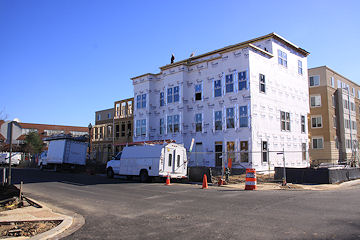 I started at
Capitol Quarter
, where the first three townhouses at Fourth and L are already framed, wrapped, and window'ed (I imagine the developers are trying to get those units finished as close to "on schedule" as possible). Here's the
before-and-afters for the intersection's southwest corner
; be advised that taking southward-facing photos in winter is no fun at all, so apologies for all glare, skipped angles, etc.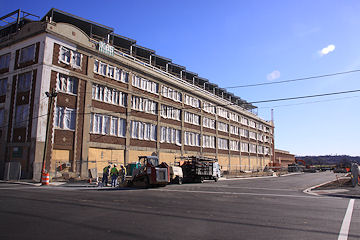 I next ventured to
The Yards
(USDOT security guards be damned!) for updated photos of the
Foundry Lofts construction
, where most of the framing of the two new top floors appears to be finished. And both Third and Tingey streets are now nicely paved and curbed, which you can see along with the Foundtry Lofts construction in these
Third and Tingey photos
, and also in shots from one block west, at what someday will be
Second and Tingey
. And, for the heck of it, here's a few new
New Jersey and Tingey images
. (Remember to look for the


icon, as always.)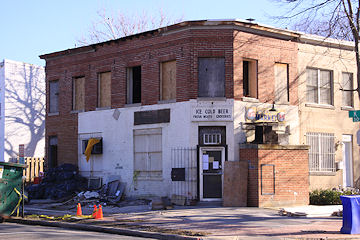 And, acting on tips from alert readers, I checked out the
Third and K Market
, which is now being gutted. There was no one around to answer any questions as to what is up, but seeing work getting done a few months after a For Rent sign went up (and quickly disappeared) would seem to be a good sign....?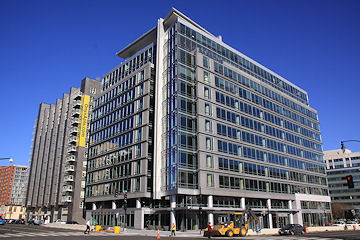 I also went to First and M, where workers at
100 M
have now given back one lane of M Street and told me that the median east of First will be rebuilt soon (as the one west of M recently was). The silver bullding against the unbelievably blue sky makes for a nice tableau
in these updated photos
.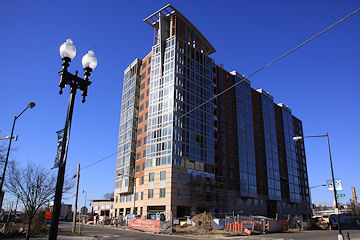 There are also a few updated shots of
909 New Jersey
, taken mainly from the
First and I intersection
, which is also notable for the nice little fence and landscaping that's now gone in across the empty lot to the east of
100 I
, visible in
many of these new photos
.
Will that tide everyone over until the new year? I know I'm now good for a while....!
---
---
---
400 M dweller
says: (
12/30/08 2:34 PM
)
I love your website it really keeps me up to date on what is happening in this neighborhood..keep up the excellent work!
---
---
Brandon
says: (
12/30/08 4:04 PM
)
I agree with 400 M Dweller--this site is one of the most complete local blogs I've seen! Happy new year!
---
Add a Comment:
Comments are closed for this post.
JDLand Comments RSS Feed

Records added or updated recently displayed here; click the "archive" links to see additional detail and older records. All data from DC Government databases and RSS feeds. JDLand takes no responsibility for errors, omissions, etc. (read CapStat disclaimer). Data is retrieved daily.
No records added or modified in the past two weeks.



| | |
| --- | --- |
| Recent Issued Building Permits | Archive |

1402 1ST ST SE

11/25/19

UNITED STATES OF AMERICA / DAVID C POSTLEWAITE

SB1900412 / CONSTRUCTION

Parcel G2:WSP will complete four borings up to the deepest potential subgrade elevation (approx. 32 ft. bgs). The proposed boring locations would be in the four quadrants of Parcel G2 to check for spatial variability in contaminant concentrations. WSP will collect and analyze three soil samples from each boring from depths corresponding to potential subgrade elevations (i.e. 10-12 ft. bgs, 20-22 ...

1212 4TH ST SE

11/25/19

FC 1212 LLC / TAMIKA STATON; OTIS

ER2000409 / SHOP DRAWING

Replace governor car #2 - Part #: TBA20641H6 Replace hoist belts #1 and #4 - Part #: SB0003119

1300 4TH ST SE

11/15/19

ASANA PARTNERS / DEBRA MARSHALL; THE DONOHOE COMPANIES INC

B2001773 / CONSTRUCTION

ADD EXTERIOR DOOR, ADD INTERIOR DOOR , ANY RELAYED,ELECTRICAL,PLUMBING, RELOCATING UNBUILT APPROVED NON LOAD BEARING FIRE RATED PARTITIONS @ FIRST FLOOR APPROVED UNDER PERMIT #B1711970. ATTACHED

300 M ST SE

11/11/19

FEDERAL CENTER LP / null

P2001215 / SUPPLEMENTAL

861 NEW JERSEY AVE SE

11/15/19

CSX TRANSPORTATION INC / ERICKA CLARK; DGS CONSTRUCTION

TC2000008 / CONSTRUCTION

(2) tower cranes

11/26/19

GREYSTAR GP I I, LLC / KIM MITCHELL; KIM MITCHELL

FD1900040 / CONSTRUCTION

TWO BELOW GRADE PRKING LEVELS, CONCRETE FOUNDATION WALLS, SLAB ON GRADE, COLUMNS ELEVATED DECKS UP TO GRADE WITH UNDERGROUND UTILITIES (MECHANICAL, PLUMBING, ELECTRICAL)

12/05/19

MIKE ALLEN / JANE MCCRAY

AH2000244 / CONSTRUCTION

WO# 1611441 - Mike Allen / P. Helgeson. Pepco to install network transformer

1111 NEW JERSEY AVE SE

11/15/19

GALLERY CAPITOL RIVERFRONT PROPERTY LLC / TANYA HILL; THYSSENKRUPP

ER2000366 / SHOP DRAWING

REPLACE EXISTING 8MM WORN HOIST CABLES WITH LIKE IN KIND ON ELEVATOR #4. WORK TO ALLOW UNIT TO BE RETURNED TO SERVICE.

1299 NEW JERSEY AVE SE

11/12/19

BROOKFIELD DEVELOPMENT / JUSTIN BELLOW

BP2000489 / POST CARD

125 O ST SE

11/25/19

DISTRICT OF COLUMBIA / DAVID C POSTLEWAITE

SB1900411 / CONSTRUCTION

WSP will complete three borings up to the deepest potential subgrade elevation (approx. 32 ft. bgs). WSP assumes that borings will not be installed inside the fleet maintenance facility due to access restrictions imposed by DC Water. The proposed boring locations form an 'L' shape around the eastern and southern sides of the fleet maintenance facility. WSP will collect and analyze three soil samp...

201 TINGEY ST SE

11/14/19

BROOKFIELD PROPERTIES / DFM DEVELOPMENT SERVICES, LLC

AH2000197 / CONSTRUCTION

Afterhours work at Tingey Square Project. The work performed will be forming, prepping and paving at Tingey Square park. Friday and Saturday the 15th & 16th, from 7PM to midnight. If required, Sunday the 17th from 7AM to 3PM. ANC Support provided. Associated Permit Include PA328164-R1 and PA10760162.

227 TINGEY ST SE

12/02/19

FC 227 LLC / KAYLA SHATTUCK; BROOKFIELD PROPERTIES MANAGEMENT LLC.

RW1900122 / CONSTRUCTION

Construction of new retaining wall located between Canal Street St and Third Street, SE.

300 TINGEY ST SE

12/04/19

FC BOILERMAKER LLC / ROBERT S. WATTS; ROBERT S. WATTS

E2002289 / SUPPLEMENTAL

AH = After Hours; B = Alteration & Repair; D = Demolition; E = Electrical; FB = Boiler; M = Mechanical; P = Plumbing and Gas; PC = Post Card; R = Raze; SG = Sign; TL = Tenant Layout; TN = Tent; RW = Retaining Wall;



No commercial transaction records added or modified in the past two weeks.