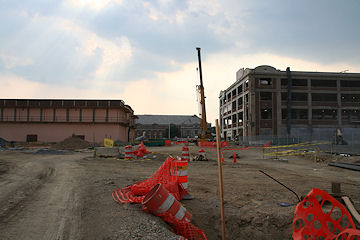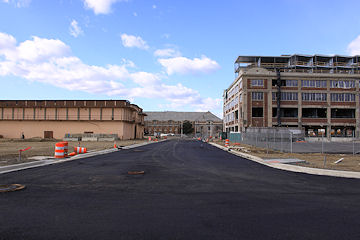 Work is continuing on the infrastructure at
The Yards
, and there's now a lot of new pavement recently laid down.
Fourth and Tingey
is starting to look like a real four-cornered intersection, with Fourth now extended southward one block to the
new Water Street
that will be the northern boundary of the
Park at the Yards
. The paving of what will be a new section of
Third Street south of Tingey
(next to the
Foundry Lofts
) was completed last month (though it's hard to see in the photos I last took in November--the hassles I get from the USDOT security people lessen my enthusiasm for trudging to Third and Tingey very often). Plus, Tingey itself now has all of its lanes reopened as well. It's all still a construction zone, but it looks like traffic is now (or will be soon) routed into the surface parking lots at Third and Fourth via the new streets.
In many of these photos you can also see the progress on the two new floors on top of the
Foundry Lofts
building. It's scheduled to open in mid-2010.