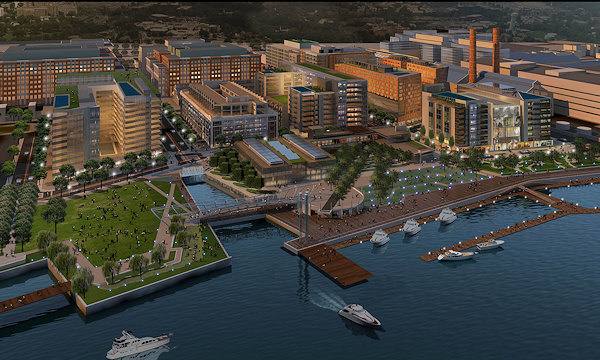 This morning inside the
Boilermaker Shop
at Fourth and Tingey Mayor Fenty announced the completion of a $42 million public-private partnership to fund and maintain the 5.5-acre
Waterfront Park at The Yards
. He was joined by Forest City's Deborah Ratner Salzberg, Ward 6 Councilmember Tommy Wells, and Capitol Riverfront BID executive director Michael Stevens, all of whom extolled the potential not only of the park (the neighborhood's "front yard", Stevens said) but of all of what is coming to Near Southeast. In
the press release
, Fenty is quoted as saying, "This is a great example of the kind of great urban spaces we can create when we think creatively and work together with partners who share our vision for transforming the banks of the Anacostia River into a world class waterfront."
Construction will begin on the park in January, and is being funded by the PILOT (payment in lieu of taxes) that the city created last year. Once the park is built, the BID will be in charge of maintaining and "programming" it. One caveat for those who have been looking forward to seeing the park completed--it is now scheduled for a mid-2010 opening, along with the
Boilermaker Shop
and the
Pattern Shop Foundry Lofts
(they renamed the dang building; I can't wait to change it everywhere on the site).
I took
a few photos at the event
(seems like it's been forever since there was one of these, especially after the avalanche of them back in 2007 and early 2008). You'll also see
on that page the latest renderings
of the park, the Foundry Lofts building, and some views along Water Street. The park images aren't new, but the others are, and it may be a few days before I get them integrated into the site, so I figured I'd toss them up here for now.
I also got to take a tour behind the fences across much of the 44 acres of The Yards, and of course snapped a bunch of photos. However, since there are hardly any *streets* in most of these locations just yet, it makes my cataloging and posting of pictures much more time-consuming than with other projects. So I hope to post them in the next few days. At least the sun was out, unlike last time!
There was a fair amount of media at this event, so check back for links to stories (and the press releases, once they're posted).