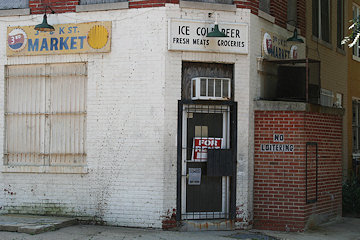 * DDOT told me these were coming a long time ago, and a reader whose e-mail I've lost gave me a heads up a few weeks back, but now I've finally visited for myself to see that the
ugly cyclone fences
on the South Capitol and M overpass have been
replaced with pretty gray-painted ironwork
.
* You have to look kind of closely, but construction has indeed started at
Capitol Quarter
, with pretty new curbs being installed on the south side of L Street between Fourth and Fifth. You can see them if you squint at the photos on my
Capitol Quarter Phase I page
.
* The owner of the
Third and K Market
at, um, Third and K must be keeping track of what's going on nearby, because there's now
a For Rent sign tucked in the door
. (Alas, all the info sheets were gone when I got there.) If you've ever dreamed of running a corner market, here's your chance. The market's been closed since about 2006.
UPDATE:
Speaking of 20 M, GlobeSt.com is reporting (tucked
in a piece on LEED Gold certification
for 1100 New York Avenue) that
several leasing deals are pending for 20 M
. So perhaps that's why Wachovia has decided to start moving forward.
I also did some updating of the tabs with the lists of projects--if you don't realize the tabs are even there (look just above the map for "Residential/Office/Retail/Hotel"), take some time during this lazy summer to click on them and be stunned and amazed by the easy access to project information....