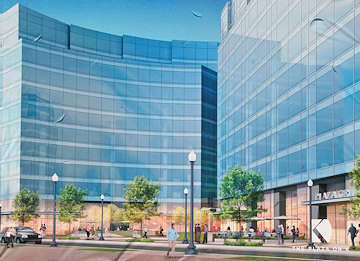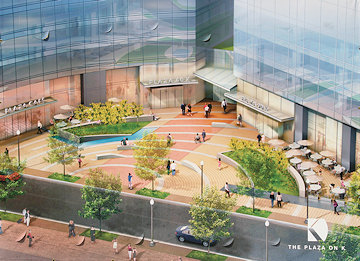 During two looooong photo treks today I found a new fence draping on First Street between I and K, advertising the three-building office-and-retail project on
Square 696
, now dubbed
The Plaza on K
. It indicates, as I was gleaning
a few weeks ago
, that DRI/Transwestern are indeed planning to move forward with 88 K, the first phase of the project, later this year, with delivery in mid-2010. There's now an official
ThePlazaonK.com
web site, for those of you looking to lease office or retail space.
Thankfully the nice sunny day allowed me to snag really good photos of the two renderings on the fence sign, which are shown above but which you can see in non-micro version on my
Plaza on K
page (scroll down a tad to see them--you have to be looking pretty close to realize they're not digital files). Both renderings show the planned 8,000-sq-ft public plaza on K Street just west of First Street. The project page also has lots of photos showing how much Square 696's "neighbors" have changed in the past few years.
Now we're just waiting to see when the old cab garage at First and K
gets demolished
....
(And--lots more photo updates coming over the next few days, so keep checking back.)