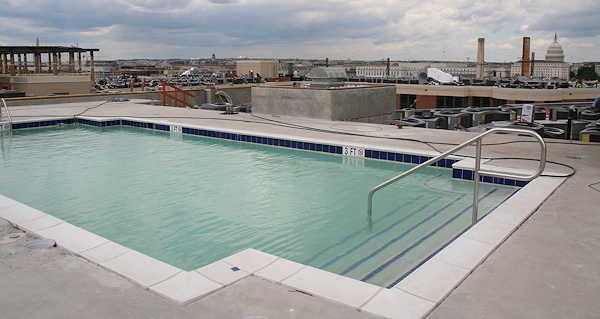 The folks at JPI were kind enough to take me on a walk-through today of their getting-close-to-opening
Jefferson
and
Axiom
apartment buildings (better known as
70 and 100 I Street
). Jefferson, with its warehouse/industrial feel, is about a month away from opening its shared spaces and first few floors of apartments, with all 12 stories expected to be open to tenants by late fall; Axiom will see its first units open in July, and also is expected to be completed before the end of the year. Together, the two buildings total nearly 700 apartments, and will be the first rental units to open in Near Southeast.
My interior photos of Jefferson/70 I
give you a glimpse of the huge "sports pub", the interior courtyard, the other shared spaces, and the roof deck and pool, with hints of the amazing views of the city from up on high. (Don't worry, I'll be adding lots of big images to my
Overhead Photos Gallery
soon.)
Since Axiom/100 I is not quite as far along in its construction,
the interior photos
don't hint as much at the final look-and-feel of the shared spaces; but I actually got more photos inside the units in 100 I. And it's on 100 I's roof deck that I got the above photo.
The temporary rental office in the trailer at Half and I is open for business. At Jefferson, rents start at about $1,600 for a studio, $1,855 for a 1-bedroom ($2,225 for a 1 br/den), $2,555 for a 2-bedroom, and a $3,320 for a 3-bedroom; Axiom's prices are a little higher. For both buildings, a single parking space is $200 per month, or $275 a month for a tandem space. And pets are allowed, but there are size and breed restrictions, and additional fees. There are also some special deals being offered on lease terms.