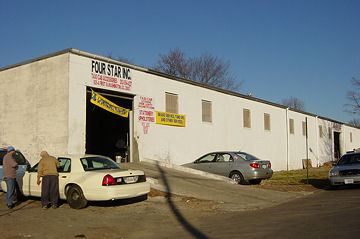 A raze permit has been filed for the now-vacant white one-story garage on the northwest corner of First and K, where DRI Development is planning to build the first phase of its three-building 825,000-sq-ft
Square 696
office/retail project, a 300,000-sq-ft building that is expected to begin construction later this year. This garage was, until the end of February, home to both Four Star Cab and Merritt Cab, both of which relocated when their leases expired.
A peek into
CoStar
(link may not work right, and CoStar doesn't allow direct links to listings for plebes like me) shows lease listings for both 50 K Street and 90 K Street, each also labeled "
The Plaza on K
," which I imagine also is referencing the 8,000-sq-ft public plaza planned for K Street at First Street. 90 K appears to be the first building planned for the site, listed at 300,000 total square feet and 12 stories, with a "year built" date of 2010. Its sibling 50 K is listed at 285,000 sq ft and 12 stories, with no "built" date (though both listings have an April 2010 occupancy date in their detail pages). See my
Square 696 page
for a rendering of the project, plus a site map and photos of the block in its current incarnation.