(a random before-and-after moment)
| | |
| --- | --- |
| | May 2, 2013 |

2nd (West) at I, Looking Northeast (

see more

)
So, the faithful are streaming toward the
ballpark
as we speak. Although the
55 M cam
showed the upper decks pretty empty with about 90 minutes to go, Channel 9 (already
on the air
with its coverage of the mass) gives a better view of the tens of thousands already inside. (48,000 people are expected.) How's everyone faring, either trying to get out of the neighborhood or into it for work? Or is everyone just staying home? And, for those reading this later today who went to the mass, how did your trip go?
In other news, my
Ballpark and Beyond column this week
is yet another one about stadium parking, taken mainly from my Monday night post about
ANC 6D's muted reaction
to parking and traffic issues (along with the Zoning Commission's approval of having additional lots built in Southwest if landowners want them). I also tossed in a quick roundup of the private cash lots springing up.

For past mile markers in the neighborhood's evolution,
see my Near Southeast DC Timeline.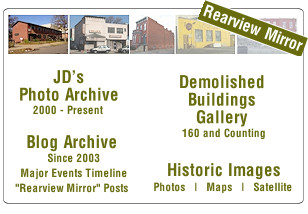 Records added or updated recently displayed here; click the "archive" links to see additional detail and older records. All data from DC Government databases and RSS feeds. JDLand takes no responsibility for errors, omissions, etc. (read CapStat disclaimer). Data is retrieved daily.


0 B/O POTOMAC AVE SE
ROBBERY
Robbery/Attempt To Commit Robbery
03/28/15
600 B/O VIRGINIA AVE SE
ROBBERY
03/22/15
300 B/O TINGEY ST SE
THEFT
2nd Degree
03/22/15
500 B/O L ST SE
THEFT
Theft 1st Degree
03/21/15
50 B/O M ST SE
THEFT
2nd Degree
03/10/15
300 B/O L ST SE
MOTOR VEHICLE THEFT
Unauthorized Use Of Vehicle
03/08/15
700 B/O L ST SE
ROBBERY
Robbery -- Force & Violence
03/07/15
1300 B/O 4TH ST SE
THEFT
Theft 1 (Theft F/Building)
03/02/15
70 B/O I ST SE
THEFT
2nd Degree
03/01/15
100 B/O K ST SE
THEFT F/AUTO

03/01/15




| | |
| --- | --- |
| Active Public Space Permits | Archive |

No records added or modified in the past two weeks.




| | |
| --- | --- |
| Recent Issued Building Permits | Archive |

1233 1ST ST SE

03/25/15

BALLPARK HOTEL LLC / APS INSPECTIONS

B1403486 / CONSTRUCTION

THE SCOPE OF WORK FOR THE 1233 1ST ST SE SUBMISSION IS THE CORE AND SHELL ONLY OF A NEW 12 STORY BUILDING. THE APPROXIMATELY 127 200 SF BUILDING IS INTENDED TO BE A HOTEL. THE FUTURE INTERIOR FIT-OUT WILL BE SUBMITTED SEPARATELY. THE BUILDING WILL SIT ON TOP OF GROUND FLOOR RETAIL / LOBBY LEVEL SUBMITTED AS PART OF A SEPARATE SUBMISSION FOR 1277 1ST ST SE.

1277 1ST ST SE

03/25/15

BALLPARK RESIDENTIAL LLC / BALL PARK SQUARE LLC

B1403488 / CONSTRUCTION

THE SCOPE OF WORK FOR THE 1277 1ST ST SE SUBMISSION INCLUDES 2 LEVELS OF BELOW GRADE PARKING TOTALING 370-380 PARKING SPACES A GROUND FLOOR RETAIL / LOBBY / LOADING LEVEL WITH APPROXIMATELY 26 500 SF OF RETAIL AND AN APPROXIMATELY 304 000 SF 13 STORY APARTMENT BUILDING CONTAINING APPROXIMATELY 326 UNITS.

1299 1ST ST SE

03/16/15

BALL PARK SQUARE LLC / PHYLLIS STEVENS

B1403487 / CONSTRUCTION

THE SCOPE OF WORK FOR THE 1299 1ST ST SE SUBMISSION IS THE CORE AND SHELL OF A NEW APPROXIMATELY 7 600 SF 2 STORY RETAIL BUILDING WITH A SINGLE BASEMENT LEVEL. THE BUILDING IS INTENDED TO BE A RESTAURANT. THE FUTURE INTERIOR FIT-OUT WILL BE PERMITTED SEPARATELY.

909 HALF ST SE

03/26/15

23 I LLC / WAYNE REEP; 23 I LLC; WAYNE REEP

E37408577 / SUPPLEMENTAL

1015 HALF ST SE

03/17/15

BON CHON / PHILIP GODAIRE; BON CHON; PHILIP GODAIRE

P42469697 / SUPPLEMENTAL

03/17/15

EVAN OBRIEN / JOSEPH ABRESCH; EVAN OBRIEN; ROBERT HUNSBERGER

E74054014 / SUPPLEMENTAL

03/25/15

HALF ST SE LLC / GEORGE DELGADO

B1501688 / CONSTRUCTION

INTERIOR ALTERATION TO 3 4 5 FLOORS AND PARTIAL 6TH FLOOR. WORK TO INCLUDE ELECTRICAL MECHANICAL AND PLUMBING

03/25/15

SAM HOLLEN / GARY MCVEY; SAM HOLLEN; GARY MCVEY

E58849835 / SUPPLEMENTAL

82 I ST SE

03/17/15

CSX TRANSPORTATION INC / MITCH A. PERMUY

E1504130 / SUPPLEMENTAL

100 I ST SE

03/26/15

NA NA NA

EHOP1590452 / HOME OCCUPATION

300 M ST SE

03/13/15

FEDERAL CENTER LP / GREGORY E LIGON

E1504060 / SUPPLEMENTAL

250 M ST SE

03/12/15

DAN MCCABE / MICHAEL YASEK

SB1500183 / CONSTRUCTION

FIVE 70-FOOT GEOTECHNICAL SPT SOIL BORINGS WILL BE PERFORMED WITH AN AUGER DRILLING RIG UTILIZING CONTINUOUS FLIGHT HOLLOW STEM AUGERS CREATING APPROXIMATELY 6-INCH DIAMETER BOREHOLES.

909 NEW JERSEY AVE SE

03/16/15

909 NEW JERSEY AVENUE ACQUISITION LLC / DENNIS LEE WINDSOR

M1501348 / SUPPLEMENTAL

ONE UNIT IS A 10 TON UNIT AND 2 ADDITIONAL UNITS ARE 7.5TONS

03/17/15

909 NEW JERSEY AVENUE ACQUISITION LLC / DAVID L. HAHN

P1504255 / SUPPLEMENTAL

1000 NEW JERSEY AVE SE

03/14/15

PHILIP BROWN

PC93167082 / POST CARD

REPLACEMENT OF NOT MORE THAN 1 GAS APPLIANCE ON A RESIDENTIAL COMMERCIAL OR INDUSTRIAL PROJECT.

1111 NEW JERSEY AVE SE

03/19/15

NJA ASSOCIATES LLC / THOMAS P MCGUIRE

E1504215 / SUPPLEMENTAL

25 POTOMAC AVE SE

03/18/15

RIVERFRONT HOLDINGS I LLC / GLENNWOOD ROGERS

P1504172 / SUPPLEMENTAL

301 WATER ST SE

03/13/15

FOREST CITY / FVI 2020

TL1500054 / CONSTRUCTION

NEW RESTAURANT TENANT LAYOUT AT THE LUMBER SHED PARCEL FOR AN OYSTER BAR WITH 55 INTERIOR SEATS (55 AT 1ST LEVEL AND 30 AT MEZZANINE) 10 STAFF AND 38 OUTDOOR SUMMER GARDEN SEATING.

03/13/15

FC LUMBER SHED LLC / FLACK

TL1500055 / CONSTRUCTION

FULL SERVICE RESTAURANT LOCATED ON THE GROUND FLOOR WITH A TOTAL NUMBER OF SEATS OF 170. INDOORS SEATING IS 86 OUTDOORS SEATING IS 84 ALL OUTDOOR SEATS ARE LOCATED ON PRIVATE PROPERTY. TOTAL OCCUPANT LOAD OF 189 WHICH INCLUDES 19 STAFF.

03/18/15

FC LUMBER SHED LLC / SEAN O JOHN

P1504295 / SUPPLEMENTAL

03/19/15

FC LUMBER SHED LLC / DONALD V. ELLENBERGER

M1501405 / SUPPLEMENTAL

03/20/15

LUMBER SHED LIC / ROBERT WATTS; LUMBER SHED LIC; ROBERT WATTS

E99575145 / SUPPLEMENTAL

AH = After Hours; B = Alteration & Repair; D = Demolition; E = Electrical; FB = Boiler; M = Mechanical; P = Plumbing and Gas; PC = Post Card; R = Raze; SG = Sign; TL = Tenant Layout; TN = Tent; RW = Retaining Wall;



1201 HALF ST SE
02/19/15
$ 9,000,000
WEST HALF RESIDENTIAL II LLC
N ST SE
02/19/15
$ 36,000,000
WEST HALF RESIDENTIAL III LLC
0038 N ST SE
02/19/15
$ 36,000,000
WEST HALF RESIDENTIAL III LLC
0036 N ST SE
02/19/15
$ 36,000,000
WEST HALF RESIDENTIAL III LLC
R N ST SE
02/19/15
$ 36,000,000
WEST HALF RESIDENTIAL III LLC
0030 N ST SE
02/19/15
$ 36,000,000
WEST HALF RESIDENTIAL III LLC
0032 N ST SE
02/19/15
$ 36,000,000
WEST HALF RESIDENTIAL III LLC
N ST SE
02/19/15
$ 36,000,000
WEST HALF RESIDENTIAL III LLC
1275 HALF ST
02/19/15
$ 36,000,000
WEST HALF RESIDENTIAL III LLC
HALF ST
02/19/15
$ 36,000,000
WEST HALF RESIDENTIAL III LLC
M ST
02/19/15
$ 36,000,000
WEST HALF RESIDENTIAL III LLC
1ST ST SE
02/10/15
$ 1,913,472
BALLPARK HOTEL LLC
1ST ST SE
02/10/15
$ 1,913,472
BALLPARK HOTEL LLC
1ST ST SE
02/10/15
$ 1,913,472
BALLPARK HOTEL LLC
1ST ST SE
02/10/15
$ 6,600,000
BALLPARK RESIDENTIAL LLC
1ST ST SE
02/10/15
$ 6,600,000
BALLPARK RESIDENTIAL LLC
1ST ST SE
02/10/15
$ 6,600,000
BALLPARK RESIDENTIAL LLC
1ST ST SE
02/10/15
$ 6,600,000
BALLPARK RESIDENTIAL LLC