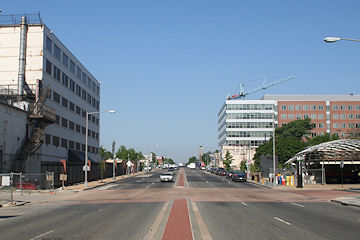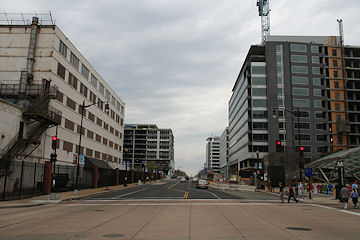 If you like photos of streetscapes taken under overcast skies, this has been the site for you lately. Yeesh. On Saturday, before the rains came, I updated my shots of the
western side of New Jersey Ave.
, showing how projects like
909 New Jersey
,
70/100 I
,
Onyx
, and
100 M
have changed the view in the past year. At least the sun was out for the brief time on Friday evening when I took new photos of the western side of the ballpark, along
South Capitol Street
. So, adding these to the photos I took earlier in the week of
First
and
Half
streets, the current state of construction in Near Southeast is pretty well documented. And now the sun shall come out, but I'll be waiting a few weeks until the next round of updates (probably early May).
And, for this week's visit from the Pope, the
Post has a huge graphic
of road closures and other information to help get through the festivities. Note that, in addition to the closure of South Capitol Street from 2 am to 2 pm Thursday, it shows that Van, Half, First, and Potomac in SE will be closed at some point, as will O, P, Q, and Potomac SW from Half Street to South Capitol. "Expect other road closures around the ballpark from 9 pm Wednesday until 2 pm Thursday," it says.