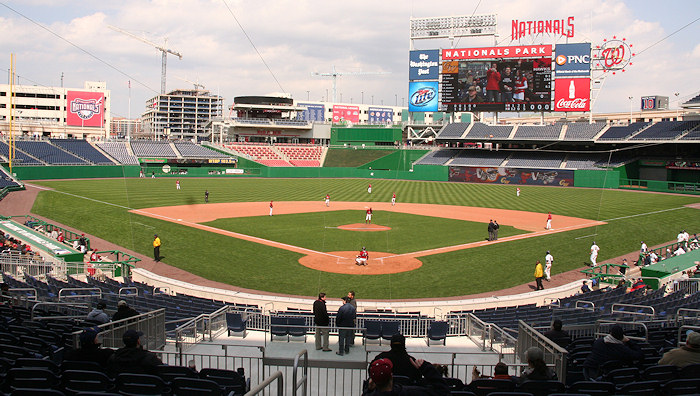 The Nationals have just sent out a
press release
with information on what fans will be greeted with (other than, you know, a baseball game) when they arrive at
Nationals Park
on Sunday. The highlights:
* The gates will open at 3:30 pm (and the Nats Express shuttle from RFK starts running at 3:00), and everyone will receive a Curly W lanyard and a "Welcome Home" rally towel. The Sheiks of Dixie (a local Dixieland jazz band) will be greeting fans exiting the subway at the reopened west entrance of the Navy Yard station at Half and M. (Half Street will be closed to vehicles, as will N Street east of Van and First Street south of M.) A barbershop quartet will also be installed on Half Street.
* There's even more once you get inside:"Face painters, balloon artists and stilt walkers will welcome fans at the entrance to the Center Field Plaza. Additional Opening Night entertainment may be found inside the ballpark, including the Mambo Combo, a regional zydeco band, Washington, DC guitarist Brian Gross staged in the Lexus Presidents Club, and face painters, caricaturists and balloon artists throughout the Main Concourse." The Braves will start batting practice at 4:30 and the Nats at 5:45.
* Pre-game ceremonies will start at 7:45 pm, which will include a flyover by four F-16s from the 121st Fighter Squadron of the DC Air National Guard, the singing of the national anthem by native Washingtonian
Denyce Graves
, and the throwing of the first pitch by President Bush. There will also be a new tradition of starting the game with "Washington.... Let's Play Ball!" to be intoned this first time by Mayor Fenty.
* American Idol alum Elliot Yamin will perform "God Bless America" prior to the Seventh Inning Stretch.
And, an answer to a question lots of people have been asking:
* "Grandstand tickets for Opening Night, in Sections 401 and 402, may be purchased for $5 at the Nationals Park Main Box Office, located on Half and N Streets, beginning at 3:30 pm on March 30. Fans may not camp out on Nationals Park grounds or line up for tickets prior to 3:00 pm. Fans may purchase only one ticket per person and must immediately enter the ballpark through the Center Field gates, located next to the Main Box Office."