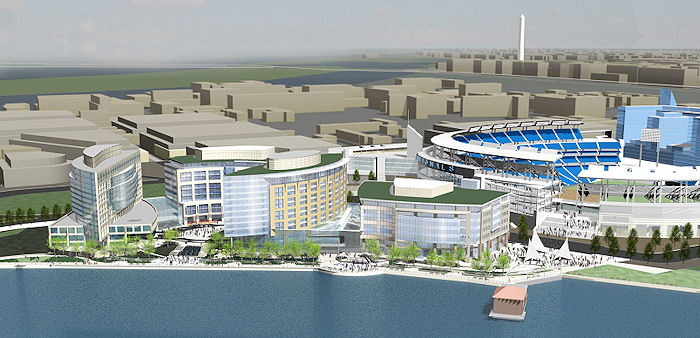 Just a reminder that Thursday (March 20) is the latest go-round in
Florida Rock
vs. the Zoning Commission. I'm not going to rehash the long history here (read the
old news items
if you need to get caught up), but tonight's hearing is on the revised design for what's now known as
RiverFront on the Anacostia
that first started showing up last summer. You can see renderings on
my project page
, and also read the
Office of Planning report
on tonight's hearing to find out the latest on the proposal. OP has recommended that this design be approved, subject to a couple of sign-offs from city agencies and a few other items. ANC 6D approved this plan (as it has approved most everything on this project) back in January--
my entry on that vote
contains a lot of information on where the project now stands as well. (Can you tell I'm in a rush?)
When could it all get underway? Quoting from
that January entry
: "As for when some movement will actually be seen at the site, David Briggs of Holland & Knight set out a
timeline
based on zoning approvals, construction drawings, and the vaunted DC permitting process that estimates the start of construction on the first phase (the eastern office building) in probably
fall of 2009
. He mentioned a number of times the amount of
pressure
that Florida Rock is under to shut down the concrete plant and to build temporary parking lots, but he explained that the site currently makes money for its company and shareholders, and there's little interest in closing it down sooner than necessary. (Briggs did say that a
temporary landscaping
of the eastern plaza, next to Diamond Teague, could be a possibility once the zoning approvals are received, but that the underground parking for RiverFront does extend beneath that plaza, and so excavation and construction work will need to be done there.)"
The hearing is at 6:30 pm at Suite 220 South, 441 4th St., NW; you can watch via
live webcast
, although that option has been problematic a few times lately. Watch this space late Thursday/early Friday for a report on it all, with perhaps further updates on timelines and whatnot.