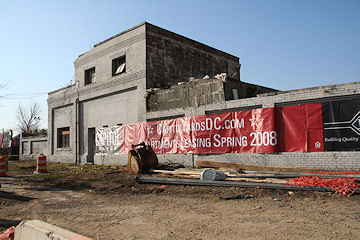 With
raze permits having been filed recently
for the Wendy's on I Street and its little gray neighbor to the east along Half Street, we knew that their days were numbered. JPI informs me that Wendy's will be closed by May 1, and that demolition on the two sites will happen over the summer, to allow construction on the 421-unit
23 Eye at Capitol Yards
to begin in September.
Also, JPI's Capitol Yards buildings at
70 and 100 I
, which together will have nearly 700 rental units, are now scheduled to open in June and July, respectively. 70 I is known as "Jefferson at Capitol Yards", while 100 I has snuck in a name change and is now "Axiom at Capitol Yards" (after a brief interlude as "Mercury").
In the meantime, the fourth Capitol Yards sibling,
909 New Jersey
, is just about at ground-level, meaning that Nats fans walking on New Jersey Avenue to get to and from Capitol South will soon see a new skeleton rising up. The 237-unit rental building is scheduled to open next year.
The
official web site
has animated computer renderings on Jefferson, Axiom, and 909, and a mailing list for those interested in more information.