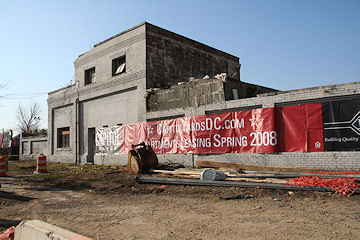 Raze permits have now been filed for the Wendy's at 23 I Street and its little gray neighbor at 901 Half Street on the corner of Half and I. These two lots totaling about 47,300 square feet were purchased in late July for $28.625 million by JPI, and the company is planning "
23 Eye at Capitol Yards
," a 421-unit residential building with up to 35,000 square feet of retail space. Late last year JPI was saying that 23 I would start construction this August--I haven't seen anything lately on whether that's still the case. I haven't had a chance to swing by Wendy's to see if they have a closing date, so if anyone thinks to ask while they're at the drive-through window, let me know. This project would be the youngest of the four Capitol Yards siblings, joining
70/100 I
arriving later this year just across the street and
909 New Jersey
coming in 2009 one block to the east.