(a random before-and-after moment)
| | |
| --- | --- |
| October 18, 2003 | June 5, 2007 |

New Jersey at M, Looking South-Southeast (

see more

)
There has been much discussion by residents and city officials over the impending "apocalypse" of
traffic and parking
congestion with the opening in April of the
new ballpark
. Residents not only in Near Southeast (all 400 of you) but in Southwest and on Capitol Hill have been waiting for the city to announce exactly how on-street parking will be handled during games, as there is great concern as to whether residents will still be able to park on their streets and won't have to deal with hundreds or thousands of cars circling the neighborhoods looking for free parking.
It's been thought that the model used at RFK--special parking permit stickers for residents to put on their cars--would be ported over to the new ballpark area, but over the past few months council member Tommy Wells and his staff, along with DDOT, have been working on a pilot plan they hope could address not only the parking issues at the ballpark but also the parking problems seen on Capitol Hill along Pennsylvania Avenue, Barracks Row (Eighth Street), and the streets around Eastern Market. They are looking for ways to balance the needs of residents with the impact on businesses if parking is hard to come by, and are looking at a concept called "Performance Parking." Here's my five-cent summary:
"Retail" streets would have the hours of metered parking extended to seven days a week until late in the evening, and with the prices to park at the meters raised to a level that would discourage some people from arriving by car, opening up more spaces and reducing double-parking and congestion. The adjacent residential streets, now covered by Zone 6 parking rules that ostensibly only allow two hours of visitor parking during weekdays (but are dependent on the parking enforcement folks tracking the cars to know how long they've been there) would see the installation of meter kioskson one side of the street, where nonresidents could park for no more than two hours even until late in the evening and on weekends. (Residents could park on both sides of the street as long as they want.)
These rules would extend with slight tweaks to the streets around the ballpark: "Retail" streets in these areas would allow longer stretches of parking (four-plus hours), but would have rates for metered parking comparable to the amount charged in pay lots, to discourage ballpark-goers from believing that on-street parking would be any cheaper than what's available in existing lots and garages. And with the residential streets having meters that wouldn't allow parking for longer than two hours, most people going to three-hour-plus baseball games would avoid parking on those blocks.
In other words, these restrictions would tell visitors--park in a lot, or take Metro, or walk, or ride your bike, but don't expect to drive down and find a space for free on a street somewhere.
One other facet of this plan would be to use the revenue from these much higher on-street parking rates to pay the cost of the new kiosk-type meters (that cost about $7,800 a pop), the cost of the extra enforcement needed to make the plan work, and also improvements to the streets and the communities to make alternative modes of transportation more enticing (fixing sidewalks, adding bike racks, making bus shelters better, etc.).
This plan has been previewed for local businesses and the ANCs (today it was the media's turn), and it's hoped that a bill creating this special pilot project can start its path through the city council process in early January. Alas, this would not be enough lead time to get it all in place before Opening Day, so there will probably be some tumult during the early part of the season as the city tries to keep stadium visitors from taking over the residential neighborhoods.
You'll no doubt be reading much more about this idea over the coming months, and there will be public meetings and refinements and many words written about it all, I'm sure. And of course one other piece of the puzzle--the
locations of the various lots
where the Nationals will be directing season-ticket holders to park--has yet to be made public. Eventually Wells's office will release maps (perhaps soon) showing the streets that could be designated as retail or residential, along with other documents providing far more detail than what I've previewed here.
In the meantime, I'm going to do something I've never done in the nearly five years that I've been running this Near Southeast site--I'm going to open up the floor to comments about this idea, that then hopefully can be read by city officials and other residents to see what people's impressions are of the plans. But be forewarned, if this little low-tech experiment goes off the rails and people start getting out of control, I'll close it down and won't be inclined to give it another shot. So behave. Of course, you'll be commenting on something you probably need to learn much more about to truly be informed, but when does that ever stop anyone on the internet?
UPDATE:
Here's
a story from the Post
on Wells's parking plan. " 'The ballpark visitors are going to be very tempted to look for cheap parking' on city streets, said Neha Bhatt, a planner in Wells's office. 'We've got to get that out of people's head that free parking exists here.' " The story also reminds me to mention that plans are to make Buzzards Point off-limits to on-street parking during ballgames (though it's likely some cash lots will be built there).
Also, there's going to be an Committee on Economic Development
oversight roundtable
on "Parking and Traffic Plan for the Nationals' Stadium" on Jan. 11 at 10 am. (It was originally scheduled for this Monday, the 17th, but they felt like there hadn't been enough public notice. I'll say--I hadn't even heard about it!)
---
JD
says: (
12/14/07 4:51 PM
)
(I think I deserve the honor of the very first comment on my own blog, don't you? But everyone else, please stay on topic. Don't be the one to ruin the experiment for everyone.)
What do *you* think about metered parking for non-residents even on residential streets, and late into the evening and on weekends?
---
---
atweber
says: (
12/14/07 5:06 PM
)
There are several areas where there isn't the two hour limit now. People who work on the hill arrive early and park all day in these spots south of the freeway.
As an resident of Capitol Hill Tower, I couldn't get a zone 6 permit to park on the street. So I have no street parking in the city.
---
---
atweber
says: (
12/14/07 5:07 PM
)
...with the exception of the limited zone free areas in Near Southeast.
---
---
Bradley
says: (
12/14/07 6:52 PM
)
From what I have heard so far, I think that this plan it great. I am tired of seeing all these cars with out of state license plates hogging our street parking at night. These home owners should either become DC residents and register their cars or else find someplace else to park them. This plan helps residents on all days, not just game days. I am a little concerned that Capitol Hill Tower residents can't get zone 6 permits however.
---
---
The Piper
says: (
12/14/07 7:11 PM
)
Any plan for parking on residential streets around the ballpark should take into account the need for parking for visitors to the U.S. Capitol going to evening receptions/events. They may not even know that there is a ballgame that night/afternoon & should also be able to find neighborhood parking. Everyone dealing w/Metro seems to assume that all out-of-towners & suburbanites live near metro & have EZ access to metro - au contraire! We will be driving to & from games & the city needs to make accomadations to earn all our tax money. Those of us who actually purchase baseball tix, food & drinks are the ones who are really paying for the stadiunm through the 10% tax on the above game tix.
---
---
E
says: (
12/14/07 7:50 PM
)
I refuse to believe that metered parking will prevent late arrivers for the games from parking on my residential street. Residents should be given guest tags for visitors for game days, and the streets should be off limits (read: towing enforced) if you don't have a permit or a visitor pass on game days. CHT (and other future condo owners) should be allowed to obtain permits if that is consistent with other high-rise dwellers in other city zones.
---
---
Mith
says: (
12/14/07 11:17 PM
)
JD, I just moved to CHT, but only after reading your site!! OK, on to the topic. sor of. I have a parking space right now in a garage, but it is also open to public parking. Some people are concerned that ballpark visitors will overwhelm our reseved parking. Also, what will happned to all the blocks north/northeast of the stadium that have unlimited parking currently? Where there are no sings/restructions? Unless I am missing something there are several blocks of unlimited parking in the area.
---
---
JD
says: (
12/14/07 11:35 PM
)
According to the map I saw, the blocks north of M, south of the freeway, and west of 2nd Street (SE, and across to 1st St. SW) would in these preliminary plans be labeled as "retail" streets, with long-term meter parking that would cost an amount similar to garage/lot parking. Virginia Avenue would be a "retail" street as well.
The other streets (from Canal Park east to 7th Street) would be considered "retail-adjacent residential" streets, and would have meters that would allow 2-hour parking by non-residents on one side of the street, while residents could park on both sides of the street with no time restrictions.
This would be every day, not just game day. Meters would run from about 9 am to 10 pm, seven days a week.
No matter what gets decided, I'd wager that the current parking configurations around the neighborhood won't stay as they are too much longer.
---
---
imgoph
says: (
12/15/07 7:37 PM
)
JD, thanks for this little comment experiment -- i hope you won't regret it and it'll encourage you to open the site up in general.
now, to the topic at hand: my personal opinion is that the city needs to definitely make sure that the meters offer no cost benefit to those who choose to drive and park on the street versus parking in a garage. i'd argue that's something that needs to be implemented all over the city, as our streets are a public resource that is being under-utilized, but i'll save that rant for its appropriate place.
hopefully, most people will realize that coming to the game via the metro and walking one block to the stadium will be the most convenient way to go. of course, we have to hope that wmata will get things right and have enough trains to handle these crowds. fingers crossed!
---
---
Tom
says: (
12/16/07 2:32 AM
)
It would be great if the city and the Nationals could build a small dock on the Anacostia river just off the RFK parking lot and ferry people up and down the river to the stadium. Its a short ride from there and it would bypass all the traffic, etc. Plus folks would probably enjoy it, etc.
---
---
bendygirl
says: (
12/19/07 11:35 AM
)
yeah, meters! I'd rather see some meters and more Ward 6 parking signs. Of course, I'd also like to see people at DOT and the other business commuters leaving space for residents to walk down the steps to the awaiting train. It's very frustrating missing my train because of the throngs of people walking up the stairs and escalator. It's really very frustrating.
PS, I love the site commenting!! You totally ROCK!
---
---
Jeff
says: (
12/19/07 10:25 PM
)
bendygirl: Although I am one of the ones trying to go up the stairs in the morning, I sympathize with you. The DOT has taken over the Navy Yard metro station like it is there to serve them exclusively. They need to learn they aren't at L'Enfant Plaza anymore.
If they are using the digital meter boxes (I assume the plan is to use the meters where you pay at a fare box and place a paper receipt on the car dashboard), why wouldn't they adjust the rate based on the anticipated demand? I don't see why the local retail businesses would sign up for a plan charging steep fees ($10? $15?) to park for four hours on a non-gamenight.
---
---
Tom
says: (
12/27/07 3:21 PM
)
I would hope the parking folks would build a small boat launch at the RFK lots on the Anacostia river and ferry Nats fans to the game
from there. RFK has the best parking.
---
Add a Comment:
Comments are closed for this post.
JDLand Comments RSS Feed

JDLand.com's Official Unofficial Guide, Updated for 2015!


For past mile markers in the neighborhood's evolution,
see my Near Southeast DC Timeline.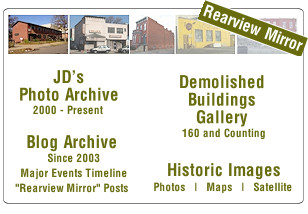 Records added or updated recently displayed here; click the "archive" links to see additional detail and older records. All data from DC Government databases and RSS feeds. JDLand takes no responsibility for errors, omissions, etc. (read CapStat disclaimer). Data is retrieved daily.


1100 B/O NEW JERSEY AVE SE
THEFT
Theft 2 (Theft F/Building)
04/25/15
THEFT
Theft 2 (Theft F/Building)
04/23/15
400 B/O M ST SE
THEFT
2nd Degree
04/22/15
1000 B/O 3RD ST SE
THEFT
2nd Degree
04/20/15
1100 B/O NEW JERSEY AVE SE
THEFT
2nd Degree
04/12/15
1100 B/O NEW JERSEY AVE SE
THEFT
2nd Degree
04/10/15
100 B/O L ST SE
THEFT
Theft 2 (Theft F/Building)
04/10/15
100 B/O K ST SE
THEFT F/AUTO

04/08/15
50 B/O M ST SE
THEFT
2nd Degree
04/07/15
100 B/O K ST SE
THEFT F/AUTO
Theft From Auto 1
04/04/15
400 B/O M ST SE
THEFT
Shoplifting
04/03/15
0 B/O POTOMAC AVE SE
ROBBERY
Robbery/Attempt To Commit Robbery
03/28/15




| | |
| --- | --- |
| Active Public Space Permits | Archive |

1401 11TH ST SE
Maryland Transit Administration
Issued


new

12/30/14
to
12/29/15
861 NEW JERSEY AVE SE
CSX Transportation Inc.
Assigned


paving; excavation

01/09/15
to
10/09/15
1100 NEW JERSEY AVE SE
Capitol Riverfront BID
Issued


streetfixture; new

08/19/14
to
08/18/15




| | |
| --- | --- |
| Recent Issued Building Permits | Archive |

1011 1ST ST SE

04/20/15

COLIN CLARK / MICHAEL BIANCO; COLIN CLARK; MITCH PERMUY

E98099105 / SUPPLEMENTAL

1265 1ST ST SE

04/10/15

CAPITAL RIVERFRONT HOTEL LLC / JERONE SCOTT

P1504925 / SUPPLEMENTAL

04/10/15

BIT INVESTMENT FIFTY-EIGHT LLC / OTIS ELEVATOR COMPANY

EN1501330 / SHOP DRAWING

TYPE OF ELEVATOR : TWO (2) TRACTION / STEEL / CENTRAL / VERTICAL TRANSPOTATION LICENSE NUMBER : ELC1300386 ISSUE DATE : 08 / 04 / 2014 EXPIRATION DATE 11-30-2015

1277 1ST ST SE

04/15/15

BALLPARK RESIDENTIAL LLC / CLARK CONSTRUCTION GROUP LLC

AH1500366 / CONSTRUCTION

ON-SITE PROJECT WORK AND TRUCK DELIVERY HOURS 6:00AM - 7:00PM MONDAY THROUGH SATURDAY FOR THE PROJECT DURATION AND THE FOLLOWING HOLIDAYS: EMANCIPATION DAY 4 / 16 / 15 COLUMBUS DAY 10 / 12 / 15 VETERANS DAY 11 / 11 / 15

1331 4TH ST SE

04/17/15

CLARK CONCRETE

AH1500371 / CONSTRUCTION

AFTERHOURS TO POUR CONCRETE ON ROOF FROM 4 / 20 / 2015 TO 5 / 20 / 2015 FROM 7PM TO 7AM

04/21/15

FC 1331 LLC / JAMES G HOLT

E1505081 / SUPPLEMENTAL

1150 5TH ST SE

04/09/15

DISTRICT OF COLUMBIA JEFFREY LUKER QUINN EVANS ARCHITECTS / REBECCA RUSCHMA ECS MID-ATLANTIC

SB1500233 / CONSTRUCTION

WE WILL PERFORM A TOTAL OF TWO SOIL BORINGS ON THE PROPOSED SITE AND ONE AUGER PROBE BORING FOR INFILTRATION TESTING. ONE BORING WILL EXTEND TO A DEPTH OF 100 FEET AND THE ANOTHER WILL EXTEND TO A DEPTH OF 15 FEET BELOW EXISTING SITE GRADES AND WILL BE LOCATED WITHIN THE BOUNDS OF THE PRIVATE PROPERTY. WE WILL ALSO DRILL ONE PROBE BORING OFFSET FROM THE 15 FOOT BORING TO A DEPTH OF APPROXIMATELY 1...

04/15/15

DGS DCPS / BRUCE PAIGE INDUSTRIAL SERVICES

B1506192 / CONSTRUCTION

REPLACE EXISTING INOPERABLE GENERAC GENERATOR WITH A NEW 6.7L GENERAC GENERATOR

1015 HALF ST SE

04/11/15

HALF ST SE LLC / ANDREW ARNTSON; HALF ST SE LLC; ANDREW ARNTSON

P63100436 / SUPPLEMENTAL

55 M ST SE

04/14/15

HINES GLOBAL REIT / JOHN GIUSEPPE-RAMCO

TL1500090 / CONSTRUCTION

FIRST TIME TENANT CONSTRUCTION FOR NEW OFFICE SPACE ON THE 9TH FLOOR FINCANTIERI MARINE GROUP AS SHOWN ON THE ATTACHED THIRD PARTY REVIEWED AND APPROVED MECH. PLUMB. ELECT. FIRE PROTECTION AND ARCH. PLANS BY KTA GROUP. INTERIOR WORK ONLY. NO CHANGE IN USE.

04/15/15

HINES GLOBAL REIT / JOHN GIUSEPPE-RAMCO

TL1500077 / CONSTRUCTION

TENANT LAYOUT TO CONSTRUCTION NEWTHIRD FLOOR OFFICE SPACE FOR GREAT MINDS AS SHOWN ON THE ATTACHED THIRD PARTY REVIEWED AND APPROVED MECH. PLUMB. ELECT. FIRE PROTECTION AND ARCH. DWGS. BY KTA. INTERIOR WORK ONLY NO STRUCTURAL WORK INVOLVED.

04/17/15

HINES GLOBAL REIT 55 M STREET LLC /

P1505068 / SUPPLEMENTAL

04/22/15

HINES GLOBAL REIT 55 M STREET LLC / JOSEPH SAFFER

P1505229 / SUPPLEMENTAL

80 M ST SE

04/20/15

WELLS REIT II 80 M STREET LLC / JOHN GIUSEPPE-RAMCO

B1503697 / CONSTRUCTION

RENOVATIONS TO EXISTING 5TH FLOOR OFFICE SPACE FOR TASC PHASE I AS SHOWN ON THE ATTACHED THIRD PARTY REVIEWED AND APPROVED MECH. PLUMB. ELECT. FIRE PROTECTION DEMOLITION AND ARCH. DWGS. BY KTA. INTERIOR WORK ONLY. NO STRUCTURAL WORK INVOLVED. NO CHANGE IN USE.

04/22/15

WELLS REIT II 80 M STREET LLC /

P1505220 / SUPPLEMENTAL

50 M ST SE

04/07/15

KCG 50 M LLC / FVI2020

B1501877 / CONSTRUCTION

A NEW 11 STORY AND PENTHOUSE LEVEL HOTEL WITH 195 ROOMS INCLUDING 766 SQ-FT FUNCTION ROOM 2ND FLOOR AND 4874 SQ-FT OF GENERAL RETAIL USE ON THE 1ST FLOOR. THE BUILDING WILL HAVE 2 BELOW GRADE PARKING LEVELS TO ACCOMODATE REQUIRED AUTOMOBILE PARKING. LOADING IS ACCOMODATED AT THE 1ST FLOOR.

55 M ST SE

04/23/15

HINES GLOBAL REIT 55 M STREET LLC / BERNARD D SASSER

E1505192 / SUPPLEMENTAL

80 M ST SE

04/21/15

WELLS REIT II 80 M STREET LLC / RONNIE E WRIGHT

E1505080 / SUPPLEMENTAL

04/21/15

NOT AVAILABLE NOT AVAILABLE / NEIL NUTWELL; NOT AVAILABLE NOT AVAILABLE; NEIL NUTWELL

P84507258 / SUPPLEMENTAL

04/21/15

UNKNOWN UNKNOWN / PATRICK BARRON; UNKNOWN UNKNOWN; ROBIN MALLEY

E38207212 / SUPPLEMENTAL

04/22/15

WELLS REIT 80 M STREET LIC / FRED MILLER; WELLS REIT 80 M STREET LIC; DOMINIC TOTARO

AR62521964 / SUPPLEMENTAL

04/23/15

TASC TASC / KEVIN HOOVER; TASC TASC; KEVIN HOOVER

E43277941 / SUPPLEMENTAL

300 M ST SE

04/21/15

NA NA NA

EHOP1290001 / HOME OCCUPATION

1201 M ST SE

04/09/15

COPT / EVAN O'BRIEN/ D MCKEEVER SERVICES

B1505061 / CONSTRUCTION

INTERIOR RENOVATION ONLY TO BATHROOMS ON FLOORS 1-4.

909 NEW JERSEY AVE SE

04/07/15

909 NEW JERSEY AVENUE ACQUISITION LLC / SHAW HERGENRATHER

P1504830 / SUPPLEMENTAL

1200 NEW JERSEY AVE SE

04/08/15

JBG/FEDERAL CENTER LLC / JOHN MCDONALD

P1504842 / SUPPLEMENTAL

1000 NEW JERSEY AVE SE

04/07/15

PHILIP BROWN

PC93167082 / POST CARD

REPLACEMENT OF NOT MORE THAN 1 GAS APPLIANCE ON A RESIDENTIAL COMMERCIAL OR INDUSTRIAL PROJECT.

04/13/15

CAPITOL HILL TOWER HOUSING COOPERATIVE INCF / BRIAN DENNIS

P1504947 / SUPPLEMENTAL

1500 SOUTH CAPITOL ST SE

04/06/15

WASHINGTON NATIONALS STADIUM LLC / JOHN GIUSEPPE-RAMCO

B1503799 / CONSTRUCTION

RENOVATIONS FOR NATIONALS NEW TEAM STORE LOCATED AT THE EAST GARAGE CONCOURSE AND 400 LEVELS AS SHOWN ON THE ATTACHED THIRD PARTY REVIEWED AND APPROVED MECHANICAL PLUMBING ELECTRICAL FIRE PROTECTION DEMOLITION ARCHITECTURAL AND STRUCTURAL DWGS. BY ECS MID-ATLANTIC LLC.

04/06/15

WASHINGTON NATIONALS STADIUM LLC / JOHN GIUSEPPE-RAMCO

B1505076 / CONSTRUCTION

RENOVATIONS TO EXISTING CONCESSION STAND LOCATED ON THE 300 LEVEL OF NATS PARK STAND 310 NATIONALS PIZZA AS SHOWN ON THE ATTACHED THIRD PARTY REVIEWED AND APPROVED MECH. PLUMB. ELECT. FIRE PROTECTION AND ARCH. DWGS. BY ECS MID-ATLANTIC LLC. NO CHANGE IN USE NO STRUCTURAL WORK INVOLVED.

04/07/15

NATIONALS STADUIM / RANDAL COX; NATIONALS STADUIM; RANDAL COX

E37461133 / SUPPLEMENTAL

04/08/15

WASHINGTON NATIONAL STADIUM LIC. / DAVID C. WILLIAMS

E1504771 / SUPPLEMENTAL

04/09/15

JOHN GIUSEPPE / PHIL HAUHN; JOHN GIUSEPPE; PHILIP HAUHN

E19554829 / SUPPLEMENTAL

04/15/15

WASHINGTON NATIONALS STADIUM LLC / JOHN GIUSEPPE-RAMCO

B1506296 / CONSTRUCTION

REVISION TO BLDG. PERMIT B1503799 NEW TEAM STORE AT NATIONALS PARK AS PER THE ATTACHED THIRD PARTY REVIEWED AND APPROVED REVISED MECH. PLUMB. ELECT. FIRE PROTECTION AND ARCH. PLANS BY ECS MID ATLANTIC LLC. ORIGINAL APPROVED PLAN SET ATTACHED ALONG WITH WRITTEN DESCRIPTION OF CHANGES MADE.

04/17/15

WASHINGTON NATIONAL STADIUM LLC / DOMINIC E TOTARO

M1501639 / SUPPLEMENTAL

04/17/15

WASHINGTON NATIONALS STADIUM / STEPHEN J. EXELBERT

P1505092 / SUPPLEMENTAL

04/22/15

WASHINGTON NATL STADIUM / JAMES W. SCHIFFHAUER

E1505137 / SUPPLEMENTAL

AH = After Hours; B = Alteration & Repair; D = Demolition; E = Electrical; FB = Boiler; M = Mechanical; P = Plumbing and Gas; PC = Post Card; R = Raze; SG = Sign; TL = Tenant Layout; TN = Tent; RW = Retaining Wall;



1022 - 1109 M ST SE
03/27/15
$ 5,000,000
WASHINGTON HUMANE SOCIETY
9TH ST SE
03/03/15
$ 3,730,000
818 POTOMAC AVENUE SE LLC
POTOMAC AV SE
03/03/15
$ 3,730,000
818 POTOMAC AVENUE SE LLC
POTOMAC AV SE
03/03/15
$ 3,730,000
818 POTOMAC AVENUE SE LLC
POTOMAC AV SE
03/03/15
$ 3,730,000
818 POTOMAC AVENUE SE LLC
1103 9TH ST SE
03/03/15
$ 3,730,000
818 POTOMAC AVENUE SE LLC
1105 9TH ST SE
03/03/15
$ 3,730,000
818 POTOMAC AVENUE SE LLC
816 POTOMAC AVE SE
03/03/15
$ 3,730,000
818 POTOMAC AVENUE SE LLC
0819R L ST SE
03/03/15
$ 3,730,000
818 POTOMAC AVENUE SE LLC
1201 HALF ST SE
02/19/15
$ 9,000,000
WEST HALF RESIDENTIAL II LLC
N ST SE
02/19/15
$ 36,000,000
WEST HALF RESIDENTIAL III LLC
0038 N ST SE
02/19/15
$ 36,000,000
WEST HALF RESIDENTIAL III LLC
0036 N ST SE
02/19/15
$ 36,000,000
WEST HALF RESIDENTIAL III LLC
R N ST SE
02/19/15
$ 36,000,000
WEST HALF RESIDENTIAL III LLC
0030 N ST SE
02/19/15
$ 36,000,000
WEST HALF RESIDENTIAL III LLC
0032 N ST SE
02/19/15
$ 36,000,000
WEST HALF RESIDENTIAL III LLC
N ST SE
02/19/15
$ 36,000,000
WEST HALF RESIDENTIAL III LLC
1275 HALF ST
02/19/15
$ 36,000,000
WEST HALF RESIDENTIAL III LLC
HALF ST
02/19/15
$ 36,000,000
WEST HALF RESIDENTIAL III LLC
M ST
02/19/15
$ 36,000,000
WEST HALF RESIDENTIAL III LLC
1ST ST SE
02/10/15
$ 1,913,472
BALLPARK HOTEL LLC
1ST ST SE
02/10/15
$ 1,913,472
BALLPARK HOTEL LLC
1ST ST SE
02/10/15
$ 1,913,472
BALLPARK HOTEL LLC
1ST ST SE
02/10/15
$ 6,600,000
BALLPARK RESIDENTIAL LLC
1ST ST SE
02/10/15
$ 6,600,000
BALLPARK RESIDENTIAL LLC
1ST ST SE
02/10/15
$ 6,600,000
BALLPARK RESIDENTIAL LLC
1ST ST SE
02/10/15
$ 6,600,000
BALLPARK RESIDENTIAL LLC