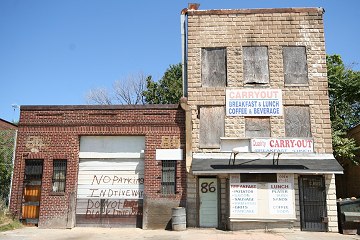 In what can't be considered a surprise, raze permit applications were filed in June for the remaining buildings along N, First, and Cushing just north of the
stadium
. This site is where three landowners are coming together to develop a combined office, residential, and retail project that would stretch from M Street to N, and is next to the big hole in the ground where
Monument Realty's Half Street project
is underway. (The raze permit for Normandie Liquors at First and M, part of the same development site,
was filed separately
.) No word on when the demolition or the development will get started, but I would imagine there's some interest in seeing these buildings demolished before Opening Day 2008. You can see more photos of these buildings
on my Ballpark Distrct page
and
in the Photo Archive
.