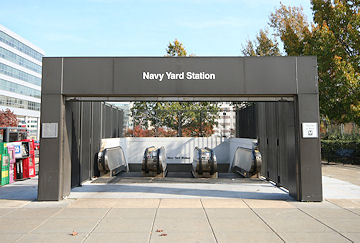 If you're looking for an excuse to have a celebration (and who isn't in the long, seven-day slog between Christmas and New Year's), you can raise a glass on Wednesday to the 20th birthday of the Waterfront, Navy Yard, and Anacostia Metro stations,
which opened on Dec. 28, 1991
.
But, a few days earlier, the Post published a piece focusing on what changes the new Navy Yard station would bring to its surroundings: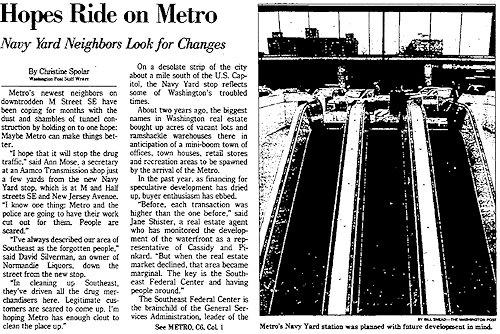 "Metro's newest neighbors on downtrodden M Street SE have been coping for months with the dust and shambles of tunnel construction by holding onto one hope: Maybe Metro can make things better."
"'I hope that it will stop the drug traffic,' said Ann Mose, a secretary at an Aamco Transmission shop just a few yards from the new Navy Yard stop, which is at M and Half streets SE and New Jersey Avenue. 'I know one thing: Metro and the police are going to have their work cut out for them. People are scared.'"
Then, see if this part sounds familiar: "About two years ago, the biggest names in Washington real estate bought up acres of vacant lots and ramshackle warehouses there in anticipation of a mini-boom town of offices, town houses, retail stores and recreation areas to be spawned by the arrival of the Metro. In the past year, as financing for speculative development has dried up, buyer enthusiasm has ebbed."
The article then speaks of the plans to redevelop the
Southeast Federal Center
with 1 million square feet of office space for 23,000 federal workers at agencies like GSA, the Army Corps of Engineers, the Navy, and perhaps FEMA.
"But today, as Metro cars rumble through test runs on the new extension of the Green Line, those dreams seem obscured by drug traffickers who walk undisturbed up and down M Street, in the shadows of boarded-up buildings that neighbors call crack houses, from which Metro workers solicitously warn visitors to stay away. [...]
"Between that and the subway stop is public housing. Trash piles up on the sidewalk. Hypodermic needles are discarded in open lots.
"'You've got to be something of a visionary to see what this is going to be like in five to 10 years,' GSA administrator Dick Austin said. 'There are a lot of those who are skeptics and say it's not going to happen.... Did you ever see the movie 'Field of Dreams?'"
And, in referencing the commercial developers who had bought up much of the land in the neighborhood, the article says: "Their hopes[...]: that the lackluster waterfront from Buzzard Point to the Washington Navy Yard could be turned into the Tysons Corner of the 21st century."
On Wednesday and Thursday (Dec. 28 and 29),
watch for closures on 11th Street SE
between M and K between 5 am and 4 pm as workers install girders above the street as part of the new flyover connecting the
11th Street Bridges
and the Southeast Freeway (or, as we probably need to start calling all of it,
I-695
).
Here's the details
, including where the detours will run.
If you've been by that stretch of 11th Street lately, you've seen the girders making their big bend westward, stopping just above 11th Street. (
This is the pier
that the girders are now being placed on, as seen
back in October
.) It will certainly change
the vista
on that stretch. I'll get photos after the girders are in place, and when the sun comes out.
In other 11th Street Bridges news, you probably noticed that the new outbound freeway span didn't open this past weekend, as had been hoped.
DDOT tells Dr. Gridlock
it will probably now be "early January." "The earlier opening had been a long shot anyway," DDOT spokesman John Lisle is quoted as saying.