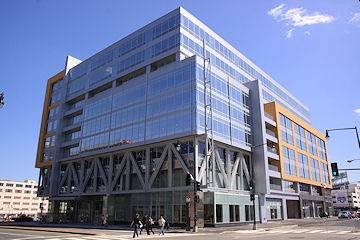 It looks like Monument Realty's office building at
55 M Street
may be close to getting its first retail tenant, as they have confirmed to me that they are in negotiations with Bank of America for a branch office in one of 55 M's ground-floor spaces, on top of the west entrance to the Navy Yard Metro station, just north of
Nationals Park
.
BoA is apparently leaving its swank construction-trailer digs at 4th and M SW this spring, and so is on the hunt for a new close-by home. Some workers at that branch have apparently told patrons that they are definitely moving to 55 M in June, but for now we'll go with Monument's statement that things are still in the negotiating phase.
If it comes to pass, BoA would be the fourth bank to open a branch in the neighborhood. (My own bank not being among them, alas.)
Just sent out by DDOT:
"The District Department of Transportation (DDOT) will hold the first in a series of public information meetings for the M Street SE/SW Transportation Study from 6:30 to 8 p.m. on Thursday, January 12, 2012 at the Westminster Presbyterian Church, 400 I Street SW.
"The nine-month study, being conducted as part of the larger Anacostia Waterfront Initiative, seeks to identify current and future transportation issues and possible mitigation strategies along the M Street SE/SW Corridor and Southwest/Southeast Waterfront areas from 12th Street SE west to 14th Street SW and from the Southwest/Southeast Freeway south to the Anacostia River/Washington Channel.
"The purpose of the public meeting is to provide an overview of the transportation study, outline the study process/schedule and gather public feedback."
There's always a lot of interest in what retail establishments will be coming to the many spaces at
The Yards
, but developer Forest City Washington is usually pretty good at keeping its cards close to its vest on potential tenants until lease agreements are signed.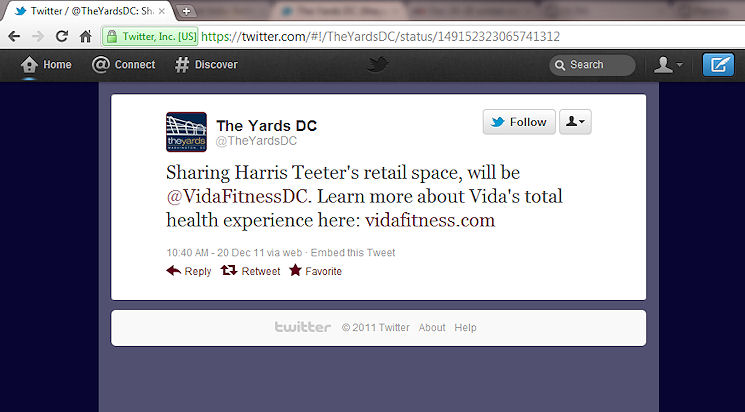 But sometimes the PR arms of companies can't help themselves--especially in the Twitterverse--and
get a little ahead of the game
. At which point (as the Post's Jonathan O'Connell
then commented
) it's pretty hard to put the toothpaste back in the tube.