* The ANC 6D meeting is on Monday at 7 pm at St. Augustine's church at 6th and M streets, SW, but, as of now, no
has been posted. I'm sure it'll be a wonderful holiday potpourri of topics, though. (The agenda for Tuesday's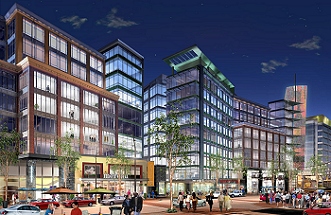 * A reader passed along
this DCMud piece
trying to play up movement on
Akridge's Half Street project
(just north of the ballpark), but I see a lot of "expects" and "luck" and "hope to" rather than any concrete start dates, and so, to me, that means there's really no news of impending construction. The fact that the Bullpen has apparently gotten it's lease renewed for the 2011 season would point to Akridge not expecting to do any work before fall. (And I'd also note that the first sentence gets everything wrong about the disposition of the Southeastern Bus Garage site, as is so often the case with DCMud items on Near Southeast: Akridge was the winning bid for the entire bus garage site
in 2007
, while Monument [which itself is not bankrupt, though its financial backer Lehman Brothers did croak] had earlier gotten the Metro station entrance on the
other side of the street
. Monument had owned land south of the bus garage, on the Bullpen site, but then sold that to Akridge
in 2008
.) The post also gives some background on the project, which might be new for people who haven't been following along, but which is basically what Akridge has been saying since they first unveiled the project
two years ago
.
You can see my
Akridge Half Street project page
for all of the details and renderings of the 700,000-square-foot office/residential/retail project, or, heck, read the
zoning hearing transcript
from January 2009. I think new residents will be happy about Akridge's long-mentioned plans for the "stall"-like vending area along the "Via" as well as a "neighborhood retail" feel for the Van Street side of the project, though people will probably be even happier about that once they know the project is actually going to start....