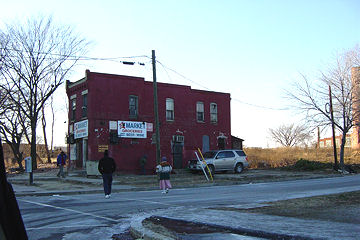 A
few weeks ago I posted
about an e-mail I had received from Yung Park, owner of the (no longer standing) Little Red Building at 2nd and L streets, SE, about his plans to switch from running a liquor store on that site to a coffeehouse, which he said would be named Aroma Espresso Bar. One of the entry's commenters noted that a chain with that name already existed, and I replied in the comments that Mr. Park had told me it was not going to be a chain: "(so I wonder if the name is going to be problematic)".
This afternoon I received a very nice e-mail from the law firm of Baker Botts LLP, informing me that their client, Shefa, owns the federal trademark for "AROMA ESPRESSO BAR" and operates a franchise system under that trademark. Further, "Mr. Park's establishment is not one of Shefa's franchises, and we have communicated with Mr. Park, asking that he refrain from using our client's trademark." They also asked that I refrain from using that name in any future blog entries about the LRB.
Hopefully soon we'll hear from Mr. Park about a new name.
UPDATE:
Or, judging by the vast reach of the
current AROMA ESPRESSO BAR
(as noted by Paul in the comments), maybe not. I would also note that the wording in the e-mail from the law firm was "asking", which doesn't exactly sound like a legal demand.
Just a reminder that the first of two public meetings to update the public on the status of the search for a new Marine Barracks location is tomorrow night (Tuesday, Nov. 30), at Eastern Market's North Hall (7th and North Carolina, SE). It will begin with an open house at 5 pm, with informational displays and "experts" on hand to discuss the various aspects of the Community Integrated Master Plan (CIMP), aka the site search. Then, at 6:30 pm, "speakers representing the community of stakeholders will present their viewpoints, [...] followed by a facilitated discussion of community development involving all participants."
Here's
the agenda
, and the
CIMP web site
has plenty of other informational materials including a recent
Process Update
(which
I wrote about last week
), in which it's stated that "the Marine Corps has not settled on any specific site or concept" (despite rumors to the contrary), and that the concerns of the fans of the Virginia Avenue Park "have been heard loud and clear and addressed accordingly."
My
previous entry
also talks about the
CLG Status Report handout
(posted by Norm Metzger), which includes some "Art of the Do-Able" conceptual graphics (emphasis on
conceptual
) that show how either the 11th and M "Exxon" site or the 8th Street "Square 929/930" site could be developed in ways that would not touch the Virginia Avenue Park. There's also a similar graphic showing how the presence at the
current BEQ site
along Virginia east of 5th could be expanded without losing the soccer field, which would requiring the shifting of the planned
Capper community center
site.
If the comment threads on my posts anytime I mention the word "Marines" are any indication, it should be a festive gathering.
From
Monday's WaPo Capital Business
: "Real estate developers and brokers in Southeast Washington say that Kaplan has been looking for office space suitable for the opening of a law school near the
Washington Nationals' baseball stadium
.
"Speaking on condition of anonymity because they are not authorized by Kaplan to discuss the company's plans, the sources say Kaplan hired the real estate brokerage firm Jones Lang LaSalle and has been seeking up to 130,000 square feet in the Capitol Riverfront Business Improvement District, around the Nationals' park, so it can open a law school there in 2013."
There's not much additional meat in the story, other than saying that Akridge (which owns the
Half Street block
northwest of the ballpark) is one of the developers vying for Kaplan's attentions. There's certainly a number of
planned office buildings
that could accommodate 130,000 square feet, and maybe the credit markets have shaken out enough that a lease taking 50 percent-ish of a building would be enough to get a construction loan. But there's also the issue of whether some
proposed federal aid rules
might hamper Kaplan's plans for expansion. [Full disclosure: Kaplan is owned by the Washington Post Co., my corporate overlords in my non-JDLand real life.]
We shall see....