Near Southeast DC: Past News Items - Sep 22, 2009
Go to Full Blog Archive
---
1 Blog Posts
Foreclosure Notices for JPI's 23 I Street Lots, and Nine Potomac Ave./9th St. Parcels Owned by ICP
Sep 22, 2009 10:28 AM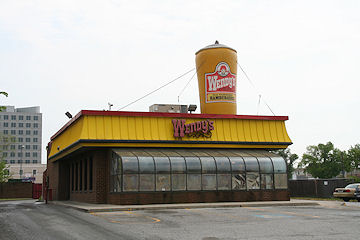 On Sept. 10 a Notice of Foreclosure Sale was filed for the two now-vacant parcels of land on the southwest corner of Half and I streets where the Wendy's used to stand. (Note that this doesn't include the adjoining Exxon land.) The lots, totalling about 47,000 square feet, were bought in July of 2007 by JPI for $28.6 million, with the intent of building
23 I Street
, the fourth of JPI's "Capitol Yards" residential buildings (along with
70/100 I
and
909 New Jersey
). JPI owes $25.1 million on the loan, which came due on Aug. 1 and which is held by
Ruben Companies
, owners of
1100 South Capitol Street
and 1101 across the street. The foreclosure sale is scheduled for Oct. 13.
JPI East pretty much fell apart over the past two years, with its principals taking what was left and
forming a new company in June
with bigwigs at Akridge; stories at the time mentioned their continued stake in 70/100/909, but said nothing about 23 I.
Another, smaller commercial foreclosure is happening further east, where nine parcels owned by ICP Partners
along Potomac Avenue between Eighth and Ninth
(including the brown boarded-up apartment building at Ninth and its parking lot) received a notice of foreclosure on Sept. 4, with a debt of $2.3 million on the properties. ICP tried hard earlier this year to
drum up interest in these lots
plus the gray building at Eighth and Potomac that houses Quiznos (which is
not
part of this foreclosure), after a previous sale attempt in 2008 went nowhere. ICP paid $9 million for all 10 properties in 2006; this foreclosure sale is scheduled for Oct. 6. (The properties are also on the
city's September Tax Sale list
.)
Whether the properties will actually go on the block, or if deals will be struck or lawsuits filed in advance of the sale dates, remains to be seen, but foreclosures are about to be a big part of the commercial real estate landscape throughout the US. (Spend a few days reading
Calculated Risk
if you want some insights into the predicted onslaught.)
As for the neighborhood's other "distressed" properties, Opus East's
100 M
and
1015 Half
office buildings are part of the company's liquidation proceedings, with
rumors flying
but no news of new owners yet. And the empty lot in the 1000 block of Seventh Street (across from the
Marines
), where a developer had been
planning an apartment building
, was sold in late July for $400,000 after a foreclosure; it had been purchased along with the two townhouses alongside it for $1.25 million in 2004. One townhouse was subsequently sold, the other was foreclosed on as well, though so far no evidence of a sale has turned up.