Near Southeast DC: Past News Items - Aug 21, 2008
Go to Full Blog Archive
---
3 Blog Posts
Late Night Update on Hood Happenings
Aug 21, 2008 9:12 PM
* As I mentioned below, the garage that housed both the Merritt and Four Star cab companies started getting brought down today. They didn't get it all on Thursday, but I imagine by sundown Friday the rest will be gone. (See
pictures from midmorning
, though it's hard to see much in the way of a difference from First and K, since they took out the back of the building and only a smidgen of the K Street facade.)
* Only a few hours
after I said
that
Capitol Quarter
framing would start "in the next few days," lumber went up on the first house on the south side of L east of Fourth. (No pictures yet--this weekend!)
* Sometime this week the crane was put up at
1015 Half Street
, so we should be seeing vertical construction before too long.
Merritt Cab Being Demolished Today
Aug 21, 2008 10:17 AM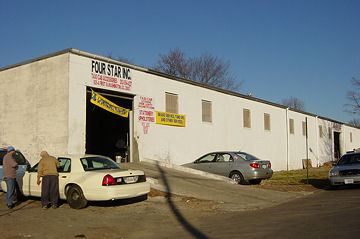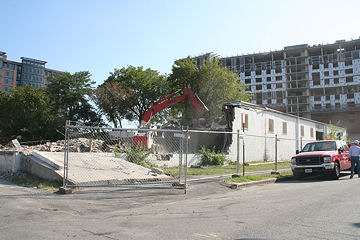 With thanks to reader J. for the tip, I can report that the cab garage on the northwest corner of First and K is getting demolished today. This is where the DRI/Transwestern
Plaza on K
may be getting underway this fall. (I'm posting this from my cell, so links will have to wait 'til later.)
UPDATED
with a link and a tiny before and after photos above. I've also added it as #153 in the
Demolished Buildings gallery
.
Mishmash: Capitol Quarter Framing, River Sports Day, Ballpark Stuff
Aug 21, 2008 8:30 AM
* Watch for the beginnings of framing of the first
Capitol Quarter townhouses
within the next few days.
* Don't forget the
Youth River Sports Day
at the Anacostia Community Boathouse on Saturday, from 10 am to 2 pm.
* Via
the Post
: "The Washington Nationals' ballpark has received the U.S. Green Building Council's National Capital Region's
Project of the Year
award. The award honored the ballpark's commitment to preserving the environment." Here's the
Sports and Entertainment Commission's press release
on the award, which was announced on Aug. 8.
* Speaking of the Sports Commission, the
WashTimes reports
that they've hired their lawyers--from
Seyfarth Shaw's Chicago office
--as they prepare to enter arbitration with the Nationals over whether the ballpark was "substantially complete" at the time it opened on March 30. And: "While the sports commission and the Nationals are expected to enter into arbitration to resolve the issue of substantial completion, the two sides are still negotiating over a number of related issues, including who should pay for certain items such as tarps, wireless networks, and video cameras. The two sides are scheduled to resume talks on August 25."