Near Southeast DC: Past News Items - Jul 28, 2011
Go to Full Blog Archive
---
1 Blog Posts
Georgetown University Applies for 'Medical Office' Building Permit in Capitol Hill Tower Retail Space
Jul 28, 2011 4:03 PM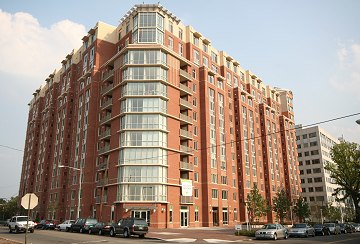 A building permit application was filed today with DCRA for 1000 New Jersey Ave., SE--the
Capitol Hill Tower
residential co-op--for "Interior Tenant Layout, First Floor, Medical Office. Georgetown University Health Disparities."
A Google search brings us to the
Georgetown-Lombardi Health Disparities Initiative
, which could be (or, I guess, could not be) the tenant applying for the building permit. The web site says the office "actively engage[s] in research focused on reducing cancer disparities among the underserved and ethnic minority populations in the District of Columbia including African-Americans, Latinos, and Asian Americans." They also state their mission as "addressing the biological and environmental basis of cancer health disparities via research, training, communication, and education." The group says it works closely "with the impoverished wards in the District, with particular emphasis on Wards East of the River," because the highest cancer rates in DC are found in wards 7 and 8.
This is first firm confirmation of the rumored tenant for the space; I
tweeted about the possibility of a tenant
10 days ago and put out requests for confirmation, but received no reply from CHT's developer, and Georgetown University would not confirm their leasing of the space. A tenants' meeting at CHT seemed to provide little information other than that this 4,000-square-foot space would be used by Georgetown for some sort of "community outreach" effort. There is nothing as yet on the Disparities web site about a new location, though they do have a number of
community
and
research
programs that could be needing space.
CHT tenants were told that construction is supposed to begin soon (though not until that building permit gets approved!). Perhaps now that the word is seeping out, a little more information will be forthcoming. I've contacted Georgetown again (no reply yet), but wanted to get this out there before too many resident heads explode, given the
fretting in this comment thread
about who the tenant might be.