I know nothing more than this right now, but the WMATA board just within the past minute voted unanimously to approve the settlement of the lawsuit brought against them by Monument Realty over the sale of the
Southeastern Bus Garage
at Half and M. The discussion was all held in executive session, and the audio feed of the vote contained no details of the settlement, but I imagine the media will be picking it up soon. More as I get it, so keep checking back. Read
yesterday's preview entry
for background on the story.
UPDATE, seconds later:
With the darn WBJ RSS feed not working, I missed this
from about 40 minutes ago
: ""Monument Realty and Akridge will split a key Metro-owned property near Nationals Park under a proposed legal settlement. [...] Monument will pay $22.6 million for a parcel on Van Street SE, while Akridge will pay $46.5 million for the Metro bus garage on the site, said Candace Smith, a WMATA spokeswoman." The Van Street site is the parking lot (Nats lot "M") just south of the Domino's site already owned by Monument. This means that the Public Space Storage building would be the only parcel on the block bounded South Capitol, Van, M and N not owned by Monument. Akridge would not gain control of the entire west side of Half Street with its acquisition of the bus garage: Monument owns the southernmost portion, directly across N Street from the ballpark, up to the alley where the On the Fly vending cart sets up shop.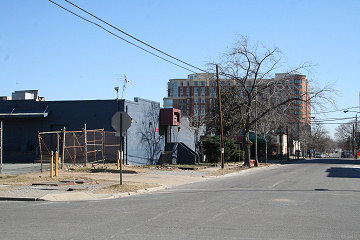 Another project for which I've posted a bunch of new photos in the past few days is the
Velocity
condo building at First and L streets. It's now topped out at 13 (gasp!) floors, and the exterior facings are starting to be hung on the western and southern sides of the building. When completed next year, it will have 200 units, along with some ground-floor retail. Eventually a twin 200-unit building will be built on the northern side of the block; the garage has already been dug, and is/will be covered with a plaza area until construction is ready to start. Phase 3 of the block, along Half Street, could be office or hotel space, depending on market conditions.
This block, which the Cohen Companies purchased in 2005 for $55 million, was home to a lot of small businesses, including the nightclubs Wet, Edge, and Club 55. At the bottom of my
Velocity project page
, past the photos of the sales center/model, you can see additional photos of how the block used to look, including some new ones from 2003 and 2004 that I've just added. And, if all of this isn't enough and you want to see still more images of Velocity's impact on the skyline, browse its
Expanded Project Archive
.