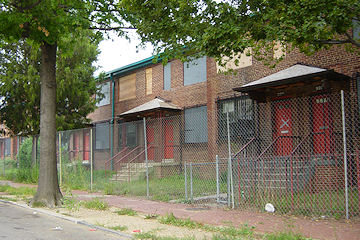 When I first started taking photos of Near Southeast more than six years ago, I had no grand plan. Every few months, I went out and snapped a few shots here or there, rarely ever even getting out of the car. As time went on and development projects got underway, I found a methodology that worked for me--stand on each corner of an intersection and in the crosswalks, and take the same angles. This allowed me to build the automated displays of before-and-afters, where I'd pick the best of the "before" angles of a certain location (even if that photo wasn't necessarily the oldest one in my collection showing that angle) and then focus on replicating that angle as construction progressed.
Many of these images aren't prize-winners--a lot were shot haphazardly, often through a dirty windshield or into bad light, with an old-model point-and-shoot digital camera (since I didn't take the plunge and get a digital SLR until early 2006). But, with more people arriving in the "new" Near Southeast who may not really know what it looked like only a few years ago, I felt it was important to make as many of these old shots available as I could.
There's probably still a bit of tweaking (I see a few of the official paired before-and-afters have gotten broken and need some back-end tweaking, and I still need to plow through 2006 and into 2007 to add more photos of the buildings that were demolished more recently), but hopefully having these photos included will be a welcome addition, if not now then as the years pass and the old Near Southeast fades from many peoples' memories.