Just a few items to catch up on, though they've already been
tweeted
(Twitter really is the best friend of a lazy blogger):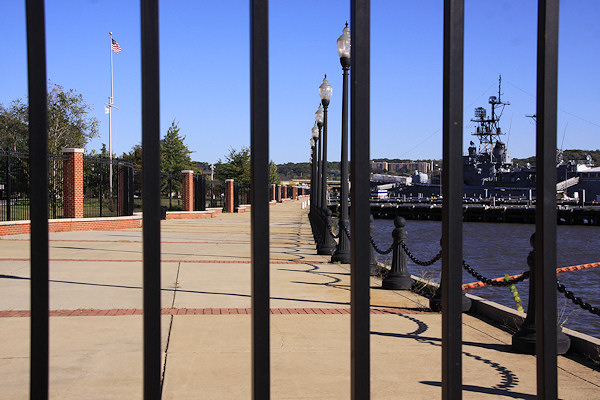 * The
Navy Yard
is having a ceremonial ribbon-cutting for its portion of the Anacostia Riverwalk Trail on Wednesday morning (May 11) at 11 am. It was on April 1 that the
Navy opened this long-completed but long closed off stretch
, which runs from just east of the
11th Street Bridges
to the
Yards Park
, though it is only open from 8 am to 5 pm Monday through Friday (excluding holidays) and is subject to closure if the Navy deems it necessary. (I finally took my first walk on it from the Yards Park and back recently, though I did it close to closing time and was imagining the hilarity that would have ensued if I had gotten locked in.) This ceremony also dovetails with the start of the BID's
Wednesday Lunchtime Concert Series
at the park, at 11:30.
* Will from
just across the way
reports that Camden is
having a ceremonial groundbreaking
on May 17 for
1345 South Capitol Street
, the 276-unit apartment building with ground-floor retail just across from
Nationals Park
that's been on hold since 2008. Though it's on the Southwest side of the DMZ and therefore in Will's territory (as spelled out in our meticulously negotiated Neighboring Blogger Treaty), I probably won't be able to completely prevent myself from taking photos of the progress from time to time, especially since I have a
full set of "befores."
But I'll be leaving the bulk of the coverage work to Will.
* The old fogies who were around in the 2004 to 2006 era might remember that a big part of getting the city council to approve the deal to fund and build
Nationals Park
was the "
Community Benefits Fund
," which would receive additional ballpark tax money and distribute it to libraries, schools, and other neighborhood developments. But
Mike DeBonis reports
that Mayor Gray's FY12 budget has a change that essentially makes the mayor and council decide every year whether the fund's money goes to the neighborhood projects or to "other spending priorities" in the city. Citizen groups are unhappy and council members are, too, DeBonis says.
The
pushback
by Near Southeast residents against the idea of moving the neighborhood out of Ward 6 and into Ward 8 continues, with some evidence that their calls, e-mails, and petitions are having an effect:
At Monday night's ANC 6D meeting, two of the three council members that make up the
redistricting
committee came to speak to residents. Phil Mendelson (who said that he invited himself to the meeting) and committee chair Michael A. Brown
gave a short presentation
on how redistricting works, and then spent about 45 minutes answering audience questions. Neither of them took a position on whether Near Southeast or Southwest should be moved, and both also took pains to note that there is no official proposal yet, and that it is Marion Barry who is floating the idea. (They also indicated that Marion Barry's argument about how the move would improve the economic standing of Ward 8 wasn't quite resonating with either of them.) The initial map of the redrawn ward boundary lines should be released by the committee later this month, either on or after May 25 (when the FY12 budget stuff is wrapped up).
Residents are continuing to press the council, with reports on the
Near Southeast mailing list
of multiple visits to council members' offices. And another meeting for residents on the subject has now been scheduled by Capitol Quarter resident and meeting-organizer-dynamo Bruce DarConte, this time with Phil Mendelson, on Monday, May 16, at 6:30 pm at the Capper Seniors building at 900 5th St. SE.
(People interested in this battle might also want to read Lydia DePillis's rumination on the optics of the fight, "
So Much for One City
.")
UPDATE, 5/12: Bruce DarConte has passed along that Jack Evans, the third member of the redistricting committee, has confirmed his attendance at the May 16 meeting at Capper Seniors.