Near Southeast DC: Past News Items - May 02, 2008
Go to Full Blog Archive
---
3 Blog Posts
Ballpark Blows a Fuse
May 2, 2008 11:48 PM
Those of us at the Nationals game tonight got an unexpected fourth-inning stretch when some of the banks of floodlights went dark. There were two banks of lights out on the first-base side, and two more on the third-base side along with the large lightpole by the third-base foul pole.
MLB.com says
that it took about 25 minutes to get them working again. The delay to get the lights fixed plus the slow pace of the game caused the cancellation of the planned postgame fireworks display, to the chagrin of chanting fans. But they cancelled them for
you
, ballpark neighbors! They didn't want to disturb you! (Anytime a game ends later than 10:50, the fireworks get cancelled.) All of this and an 11-4 loss did not make for a cheery evening, but at least the weather was nice!
Small Photo Update (Along I and K)
May 2, 2008 3:17 PM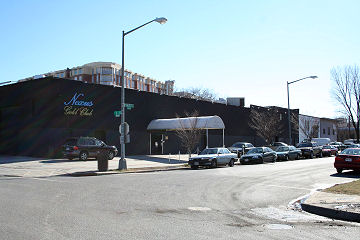 When I went out yesterday to get photos of the demolition getting underway at
23 I
, I also took a fair number of photos along the way on First, Half, New Jersey, I, and K, even though the weather was less than optimal. (Some day I'll get bright blue skies again.) The ones of
909 New Jersey
show how it's now almost three stories above ground, and they hint at how much this 12-story building is going to change the northern end of New Jersey Avenue.
You can see all the shots paired with their befores at these links:
New Jersey at I and K
,
First at I and K
, and
Half at I and K
(where those with xray specs might be able to make out the excavation work underway at
1015 Half
). The

icon is a bit misleading on some of these, because it's still showing for pics taken in April that I didn't update this time around (but perhaps you missed them in the ballpark whirlwind, anyway). And use the
icon to see the range of photos between the "before" and the "after." I hope to get some more photos this weekend, weather permitting.
Now, About that Retail..... (A Space Survey)
May 2, 2008 10:09 AM
With the
ballpark
now humming along like it's been here forever (Tom Boswell has a litany of good things to say
in today's Post
) , interest is starting to turn toward what sort of retail/restaurant options are going to come to the neighborhood, and
when
. For your Friday time-killing pleasure, I've tossed together a quick a survey of what's either available now or will be coming within the next two years. (I'm not including already existing retail; I'm just looking at where new stuff could arrive.) As of now, I've seen no announcements of tenants for any of these spaces, but maybe if residents, workers, and ballpark fans clap their hands and wish real hard....
*
20 M
- Completed in March of 2007, its 11,000 sq-ft of ground-floor retail space would seem to be an enticing location (just across the street from the Navy Yard subway station's ballpark exit), but so far there's been no takers. "Coming soon" signs that were in the windows last year for Wachovia and Kinko's are now gone.
*
Capitol Hill Tower
- A 7,000-sq-ft restaurant space in the ground floor of this co-op building has been advertised ever since the building opened in 2006, but no takers so far.
*
100 M
- The 240,000-square-foot office building at First and M is scheduled to be completed later this year, and
they're offering 8,500 sq ft
of "corner restaurant/retail space" with "great ceiling heights, storefront and outdoor seating." (There's no ground-floor retail planned for
Onyx on First
in the same block.)
*
55 M
- The first part of
Monument's Half Street
project is this 275,000-sq-ft office building now under construction at Half and M (it's the building on top of the subway station entrance). It has over 10,000 sq ft of retail spaces on Half, M, and Cushing, and should be completed by mid-2009. (See retail spaces 1 through 4
on this page
at the official web site.)
*
909 New Jersey
- For the folks who choose to walk from the Capitol South Metro station, the under-construction residential building at New Jersey and K is going to have 6,000 sq ft of ground-floor retail space when it's completed in summer 2009.
*
Velocity
- The ground floor of this 200-unit condo building at First and L will have retail (I can't find how much), and will be finished by late 2009.
*
The Yards
- By the end of 2009, the renovation of the
old Boilermaker Shop
at Third and Tingey into a 46,000-sq-ft retail space should be completed, and there is also 10,000 square feet of ground-floor retail space planned for the
Pattern Shop Lofts
building on the south side of Tingey, which should have its conversion into a rental building completed by the end of next year as well. Both of these are situated on the route that most Nats Express users walk along to get from the shuttle stop at 300 M to the ballpark. (But will the Nats Express run after this year?)
*
Half Street Part 2
- The southern part of the east side of Half Street north of the ballpark is going to be a combination of a 200-room hotel and two residential buildings totaling 340 units, with about 40,000-sq-ft of ground floor retail to entice the throngs that walk along Half Street before and after games. (See retail spaces 5 through 8
on this page
at the official web site.)
*
1015 Half
- Opus East hasn't yet committed to whether there will be ground-floor retail in this 410,000-sq-ft office building at Half and L, though about 10,000 sq ft of space will be there.
*
23 I
- If this 420-unit apartment building does indeed begin construction in September of this year, there could be 15,000 sq ft of retail available at Half and I by the end of 2010.
That's about 200,000 square feet of space to be filled within the next few years--and this doesn't include the retail spaces in the ground floor of the baseball stadium along First Street (who knows when those will be occupied). It's possible other buildings slated to have ground-floor retail could pop up between now and the end of 2010--
1111 New Jersey
and
250 M
are the main candidates.
And there will also could be more offerings at the Yards by 2011 (including that grocery store planned for
401 M
as well as the Lumber Storage Shed and other to-be-built pavilions at the
Waterfront Park
). And maybe the first building at
Florida Rock
, across from the ballpark's grand staircase, could be done by the end of 2011. But this is getting a little too far down the road....