Those of us at the Nationals game tonight got an unexpected fourth-inning stretch when some of the banks of floodlights went dark. There were two banks of lights out on the first-base side, and two more on the third-base side along with the large lightpole by the third-base foul pole.
MLB.com says
that it took about 25 minutes to get them working again. The delay to get the lights fixed plus the slow pace of the game caused the cancellation of the planned postgame fireworks display, to the chagrin of chanting fans. But they cancelled them for
you
, ballpark neighbors! They didn't want to disturb you! (Anytime a game ends later than 10:50, the fireworks get cancelled.) All of this and an 11-4 loss did not make for a cheery evening, but at least the weather was nice!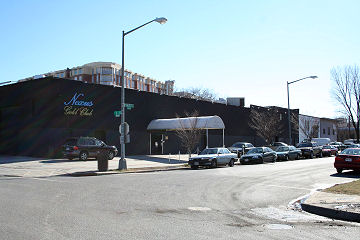 When I went out yesterday to get photos of the demolition getting underway at
23 I
, I also took a fair number of photos along the way on First, Half, New Jersey, I, and K, even though the weather was less than optimal. (Some day I'll get bright blue skies again.) The ones of
909 New Jersey
show how it's now almost three stories above ground, and they hint at how much this 12-story building is going to change the northern end of New Jersey Avenue.
You can see all the shots paired with their befores at these links:
New Jersey at I and K
,
First at I and K
, and
Half at I and K
(where those with xray specs might be able to make out the excavation work underway at
1015 Half
). The

icon is a bit misleading on some of these, because it's still showing for pics taken in April that I didn't update this time around (but perhaps you missed them in the ballpark whirlwind, anyway). And use the
icon to see the range of photos between the "before" and the "after." I hope to get some more photos this weekend, weather permitting.
With the
ballpark
now humming along like it's been here forever (Tom Boswell has a litany of good things to say
in today's Post
) , interest is starting to turn toward what sort of retail/restaurant options are going to come to the neighborhood, and
when
. For your Friday time-killing pleasure, I've tossed together a quick a survey of what's either available now or will be coming within the next two years. (I'm not including already existing retail; I'm just looking at where new stuff could arrive.) As of now, I've seen no announcements of tenants for any of these spaces, but maybe if residents, workers, and ballpark fans clap their hands and wish real hard....