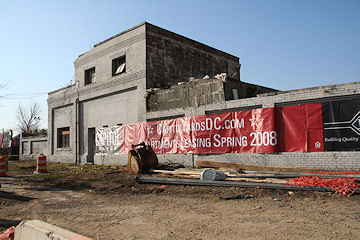 Thanks to reader E. for the tip that demolition work is underway today along Half Street between I and K, where the little gray Alpha Towing building stands; as of earlier this morning, the brick wall was apparently down. This is the site of JPI's planned
23 I Street
apartment building, which is expected to start construction by early fall. I don't yet know the fate of Wendy's next door, which is also part of the 23 I site and which was
supposed to be closed down as of today
. I will go check it out as soon as the rain stops. (This frickin' weather, I am so tired of it. And it scuttled plans I had today for something cool, which hopefully will happen next week--you'll have to wait to find out what it is. So do a sun dance!)
UPDATE: Yup, all gone.
Building #152
demolished since 2003. Wendy's is still open, though, and one of the workers there told me they're open through the end of June. I've added a few new photos on my
23 I page
to show the changed landscape as of this afternoon. (The sun appeared about 20 minutes later. Damn you, Old Sol!)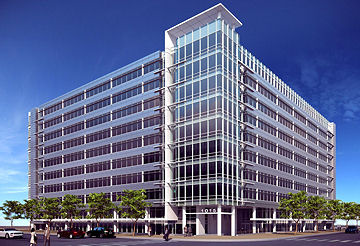 GlobeSt.com has a brief
on
1015 Half Street
, the 400,000-square-foot office building by Opus East on the site of the old Nation nightclub along Half, K, and L streets. Excavation started last month, and they're looking at a spring 2010 completion date. It will be certified LEED silver at a minimum, and possibly even reach gold status. It's being built on spec, with no tenants signed yet. There's the possibility for ground-floor retail (the zoning for the site doesn't require it), and there will be three floors of underground parking, which I imagine will be available for Nats parking. You can see my
1015 Half page
for photos of the site, though I haven't updated them since digging started. (Hope to get a new batch soon.)
Opus is also the developer of
100 M
, which is scheduled to deliver this fall. And the GlobeSt article says that Opus is looking around Capitol Riverfront for other opportunities....